Cardiff Singer of the World 2013: Five finalists chosen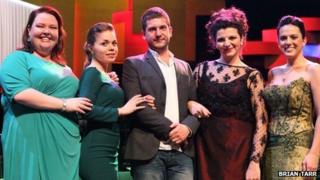 Five young contestants have been chosen to perform in the final of BBC Cardiff Singer of the World 2013.
Jamie Barton from USA, Marko Mimica from Croatia, Olena Tokar from Ukraine, Daniela Mack from Argentina and Teresa Romano from Italy will all perform on Sunday.
It is 30 years since the start of the contest, which has launched the careers of many classical singers.
Just over 400 auditioned and 20 took part in the week-long contest.
The winner of the main prize will receive £15,000 and the Cardiff Trophy.
On Sunday, the singers will perform their choice of repertoire and will be accompanied by the BBC National Orchestra of Wales.
They will be judged by the patron and jury member Dame Kiri Te Kanawa, Dame Felicity Palmer, Neil Shicoff, Bernd Weikl, Maren Hofmeister, Per Boye Hansen and chairman, Nicholas Payne.
BBC Four's coverage of the final is presented from St David's Hall, Cardiff by Petroc Trelawny, with young soprano Danielle de Niese profiling the singers and talking to them as they come off stage, and Josie D'Arby gauging the opinions in the audience.
Mr Trelawny said:"The standard has been really high and it's been interesting, it's been like the oven's been turned up each night.
"Last night, the last of the four rounds, the standard was particularly high and two singers got through from last night's round into the final.
"It's a wonderful kind of way of seeing who is hot out there on the opera scene really. It should be that these are the 20 best young singers in the world and that does seem to be the direction of the competition this year."
BBC Cardiff Singer of the World is organised by BBC Cymru Wales in association with Welsh National Opera and supported by Cardiff council.
The final can be followed on Sunday on BBC Radio 3 at 15:00 BST, on BBC Radio Cymru at 19:00, and on BBC Radio Wales and BBC Four at 19:30.