Armed Forces Day: Stephen Healey's partner bears Cardiff flag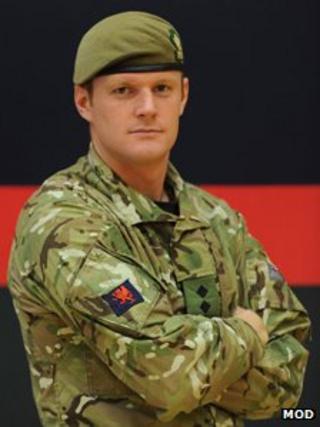 The partner of an Army officer killed in Afghanistan has taken part in a ceremony to mark Armed Forces Day.
Thea Davies, whose partner Capt Stephen Healey, 29, was killed in 2012, carried the Armed Forces Day flag before it was raised at Cardiff Castle.
The driver of the vehicle in which Capt Healey was travelling when he was caught in a roadside blast also took part.
Monday's event took place in the run-up to Armed Forces Day next Saturday.
Cardiff's flag-raising ceremony is part of a UK initiative running up to the day.
The flag travelled by boat from Mermaid Quay in Cardiff Bay along the River Taff.
It was carried by L/Cpl Ian Lane, who was driving the armoured vehicle in which Capt Healey, from Cardiff, was killed in Helmand Province in May 2012.
L/Cpl Lane was accompanied on his journey by a water-skier undergoing rehabilitative treatment in Wales.
He presented the flag to Ms Davies and she took it to Cardiff Castle, escorted by armed forces cadets members.
From there, the flag was handed to the parents of Sqn Ldr Rimon Than, 33, of RAF Valley on Anglesey.
Sqn Ldr Than was one of three people who died following an avalanche in the Cairngorms in February.
The party took the flag to the castle battlements, where it was raised by Cardiff council leader Heather Joyce, who said: "Armed Forces Day helps the nation to show its support for the men and women who are currently serving in the armed forces and those who have served our country.
"We owe them a debt of gratitude and Cardiff is proud to be joining cities, towns and villages across the UK in raising the Armed Forces Day flag at Cardiff Castle to signify our continued support for all they do."
A series of events are due to be held in Cardiff this week, before the main Armed Forces Day event at Cooper's Field, Cardiff, on Saturday.
Also on Monday, Torfaen council will hold a flag-raising ceremony at the civic centre in Pontypool, as will Wrexham council at the town's Guildhall.
Last Saturday, an event at Deeside College, Flintshire, marked North Wales Armed Forces Day.