Mobile phone signal boost for Pendine, Carmarthenshire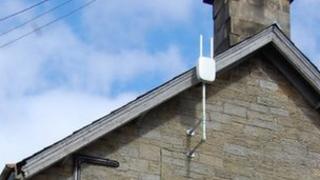 A Carmarthenshire village is taking part in a trial to boost mobile phone "not-spots" in rural areas.
Pendine is one of 12 locations across the UK trialling Vodafone's "open femto" signal boosters.
The company has installed several of the small boosters in the village to increase customers' 3G coverage.
One local resident said Pendine had virtually "no signal at all," and texts or voice messages can take hours to arrive.
The technology used is a stronger version of Vodafone's femtocells, which are small base stations traditionally used to boost mobile signals in homes.
Usually, a femtocell will have a closed network, allowing only selected people to use it.
However, Pendine will benefit from open femto units, meaning any Vodafone customers in the area will be able to use it.
The units are about the size of a small suitcase, can be attached to the side of buildings, and use existing broadband services to deliver a 3G mobile signal.
Several have been placed across the village, including the Post Office and Parry's Restaurant.
The company said 170 areas from around the UK with little or no mobile signal applied to be included in the trial.
Only 12 were selected, with Pendine the only area in Wales.
Local resident Martyn Davies, who works as a driver and in a bar in Pendine, said: "I'm on Orange and my partner's with Vodafone.
"There's never been a signal at all with either - unless you can hover 30ft in the air.
"I got a land line installed a few weeks ago because I get no mobile signal at all in my house.
"You can be waiting hours for texts, and wi-fi is non-existent. I have had texts and messages asking me to get into work for 10am, and I haven't received them until 5pm."
Mr Davies said a stronger signal would be welcomed by local people and tourists.
He added: "Even if it is just Vodafone customers who will benefit, it only takes a phone call to switch networks - assuming you can get a signal."
Gwilym Dawe, who works at Pendine's Museum of Speed, said: "Last year someone had a problem with their gearbox and had tried ringing for help, but couldn't get a signal. They ended up coming to use the land line here.
"We get a lot of people walking the cliffs round here and if they had an accident and wanted help, they would be stuffed."
Simon Hart, MP for Carmarthen West and South Pembrokeshire, said: "Pendine is already seeing the benefits of improved connectivity in its community and as the holiday season progresses I am sure this will multiply."