Community centre bid for Caerphilly miners' hospital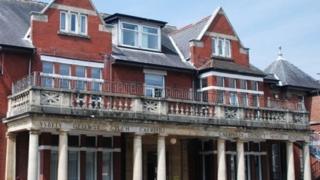 A campaign has been launched in Caerphilly to raise money from local residents to turn part of the town's former miners' hospital into a community centre.
Campaigners say they need over £1m to buy its main building, the Beeches.
So far, £370,000 has been raised towards the expected purchase price.
On Saturday Falklands veteran Simon Weston, who was born there, released 250 balloons - one for every 100 babies born at the hospital.
'Benefit, mutuality and collaboration'
Katherine Hughes, secretary of Caerphilly Miners Centre for the Community and leader of the campaign, said there was strong local support for the idea.
"The building will basically be run as a social enterprise, supporting the wellbeing of the whole community," she said.
"Defined broadly the ground floor will be used for education and learning, the first floor for health and wellbeing and the top floor for social enterprises."
She added: "We want to give people the opportunity to learn from each other - one of our ideas is to work with schools in establishing a homework club to help parents who don't have access to the internet.
"Something else we're keen on is seeing young people teaching older people, for example they could show them how to use a computer.
"This is all about recycling talent - sustainability through recycling energy.
"We want to give young people and older people a chance to give something back to the community - this is about benefit, mutuality and collaboration."
Redevelopment
Originally a mansion owned by a mining company, local colliers launched a fund to buy the building and turn it into a hospital.
They gave six old pence (2.5p) from their weekly wage of 12 shillings and six pence (62.5p) towards the fund.
The historic contribution - said to be equivalent to £8 a week today - was the inspiration behind the naming of the Miners 8 fundraising campaign.
Caerphilly District Miners Hospital opened in 1923 and served the community's health needs for nearly 90 years until its closure in November 2011.
The site is now being redeveloped, mostly for housing.
Ms Hughes estimated that they will have to raise between £1.15m and £1.2m to purchase the building.
"We've put in a lot of time and persistence but we won't give up. We've done the hardest bit - the first third is the hardest.
"As we've gone along more people recognised that we mean business and look at us - we're still around.
"There have been a few obstacles along the way but we're still here."