Police shot cow on run from Maesteg abattoir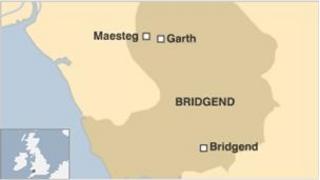 Armed police officers were called to shoot dead a cow which escaped from an abattoir where it had been taken to be slaughtered.
The heifer jumped over stock fencing before running along a river and into a garden in Bridgend county.
It had escaped from a pen at the Maesteg abattoir at Garth on the morning of 20 June.
The abattoir described the event as "very rare".
Spokeswoman Leigh Roberts said: "It's extremely rare for something like this to happen. There's been an abattoir on the site for over 100 years and I can't remember anything like this."
"Fortunately, it was all dealt with very quickly and the cow was destroyed. Nobody was injured."
A South Wales Police spokesman said: "Armed police officers were called to attend following reports of a cow having escaped from an abattoir in Maesteg.
"The animal was located in a nearby garden and destroyed."