TA centres to close at Caernarfon and Llandudno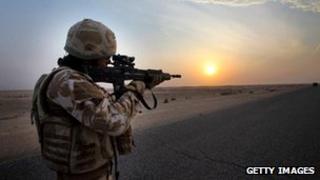 Two Territorial Army (TA) centres are to close in Gwynedd and Conwy under UK government restructuring plans.
Defence Secretary Philip Hammond has confirmed the Caernarfon and Llandudno sites will shut, along with 36 others across the UK.
Mr Hammond said he would expect the majority of those serving at Caernarfon to continue serving at the Colwyn Bay TA centre in Conwy county.
Meanwhile, a new centre will be created in Cardiff.
On Wednesday, ahead of the announcement, Labour MP Madeleine Moon asked Mr Hammond: "Can I have an assurance, you will look at the impact of recruitment in Wales and the opportunities for reservists in Wales to continue to serve following the closure of these bases?"
Mr Hammond said he had examined the impact and the majority of the members lived closer to Colwyn Bay than Caernarfon.
He also confirmed the intention to change the reserve force name from the Territorial Army to the Army Reserve to better reflect the future role.
Under the UK government's £1.8bn plans, regular army numbers would be cut from 100,000 to 80,000 but the reserves would grow from around 20,000 to 30,000 by 2018.
Mr Hammond could not confirm where the new Cardiff centre would be, but it is expected to happen in the next two to three years.