Operation Jasmine: Families meet DPP over abuse cases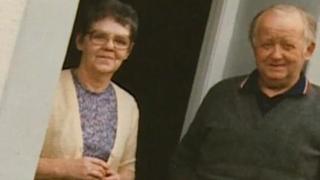 Families calling for a public inquiry into alleged abuse at care homes in south Wales say they are satisfied with why six test cases cannot be brought.
The families met director of public prosecutions Keir Starmer QC in Cardiff to hear about the Gwent Police investigation Operation Jasmine.
The trial of care home owner Dr Prana Das collapsed after he suffered a brain injury and could not stand trial.
But the families said they remained "frustrated" in the search for justice.
Operation Jasmine was set up in 2005 following concern about neglect in six nursing homes, two of which were owned by Dr Das, who at one time owned 25 homes across south east Wales.
The investigation spanned seven years, involved 75 police staff and 4,126 statements were taken.
It identified 100 potential victims.
But after Dr Das suffered brain damage during a violent burglary at his home in September 2012, the court case against him, company chief executive Paul Black and their company Puretruce collapsed in March this year.
The meeting between Mr Starmer and the families on Friday was to discuss the potential test cases.
In a statement issued after the meeting, the families said: "We welcome the explanation by the director of public prosecutions, Keir Starmer QC, as to why the six test cases could not be taken forward.
"We also welcome his statement that although the case still lies on file this does not prevent a public inquiry.
"However, we remain acutely frustrated that justice is not being done for the victims and their families.
"We will pursue all options open to us to ensure that nothing similar happens to anyone else."
Older People's Commissioner for Wales, Sarah Rochira, added: "I am pleased that the families were able to meet with the director of public prosecutions today and that they were given an explanation of why the cases linked to Operation Jasmine were not taken forward.
"I agree with the director of public prosecutions that there currently seem to be gaps in the law around abuse and neglect of older people.
"I will continue to work to ensure that these are addressed to ensure that older people living in care homes across Wales are safeguarded and protected more effectively."