Two men critically ill after taking drug GBL in Llandough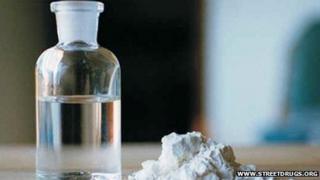 Two men are in a critical condition in hospital in Cardiff after taking the drug GBL, which police say they bought on the internet.
Officers were called to an address at Llandough near Penarth where four men had collapsed late on Saturday night.
The four were taken to the University Hospital of Wales where two are critically ill but stable.
South Wales Police warned about the dangers of taking these drugs.
Gammabutyrolactone (GBL) is classified as a Class C drug and is closely related to Gammahydroxybutrate (GHB), which it turns into once inside the body.
It was formerly known as a "legal high" but was banned in 2009 after the death of 21-year-old student.
It can be sold legally as a chemical solvent in paint strippers and stain removers.
Det Insp David Rees said the substances can contain illegal or dangerous products "which can have severe consequences" for anyone who takes them.
Substance misuse
He sadi: "While these products may be available via the internet, some of them are still illegal and people put themselves in great danger if taken".
Det Insp Rees added that anyone who had concerns having taken GBL or GHB should get immediate medical help or contact any of the substance misuse agencies.
Police said the Wales Drug and Alcohol helpline provided a free and bilingual single point of contact for anyone wanting further information or help relating to drugs or alcohol.
They said the helpline can assist individuals, their families, carers and support workers within the drug and alcohol field to access appropriate local and regional services.
South Wales Police said anyone with information relating to the use or sale of drugs can contact police on 101 or Crimestoppers anonymously on 0800 555111. The Wales Drug and Alcohol helpline is on 0808 808 2234.