Stafford Hospital scandal: Welsh NHS budget review to avoid repeat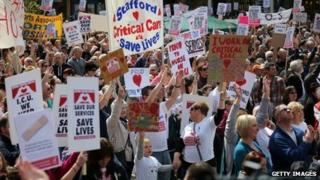 Welsh NHS funding levels will be reviewed to help ensure hospitals avoid a repeat of a scandal in England where hundreds of patients died needlessly.
A public inquiry into Stafford Hospital found neglect and abuse between 2005 and 2008 had contributed to patient deaths.
Welsh Health Minister Mark Drakeford said the NHS budget would support patient safety and quality of care.
Dr Drakeford also announced £10m would be used to recruit 290 hospital nurses.
He told assembly members the funding "would allow the NHS in Wales to recruit the medical and surgical ward nurses needed for the future".
Conservatives have long claimed that the Welsh NHS is underfunded.
Dr Drakeford said the inquiry report on the Stafford Hospital scandal had led to a "critical eye" being cast over the health service in Wales.
A series of measures designed to protect patients were also unveiled by the Welsh government. The plan includes:
Changes to the NHS complaints system
A ban on gagging clauses
Ensuring care standards focus on individuals
The plan has followed the publication of the Stafford Hospital report, led by Robert Francis QC, in February which accused the NHS of putting corporate self-interest ahead of patients.
Data had shown there were between 400 and 1,200 more deaths at the hospital than would have been expected. It was blamed on a culture of post-cutting and target-chasing ahead of the quality of care delivered.
Examples included patients being so thirsty that they had to drink water from vases and receptionists left to decide which patients to treat in A&E.
Nurses were not trained properly to use vital equipment, while inexperienced doctors were put in charge of critically ill patients.
Some patients needing pain relief either got it late or not at all, leaving them crying out for help, and there were cases where food and drinks were left out of reach.
Mr Francis said the failings went right to the top of the health service. He made 290 recommendations, saying "fundamental change" was needed to prevent the public losing confidence.
The inquiry led to the Welsh government looking at the NHS system in Wales.
Mortality figures
Dr Drakeford announced the Welsh government's response on Tuesday and also said there would be a review of the Welsh NHS budget.
He told assembly members: "Jointly with the finance minister (Jane Hutt) I will be undertaking a review of the NHS budget over the summer to ensure that it reflects the lessons to be learnt from Francis, the additional burdens which face the health service and to ensure that there is a proper match between the quality of care, patient safety issues and the budgets to support them.
"I expect that work to be completed by the autumn, and to assist further in carrying forward our response in Wales to the Francis report."
The Welsh government said it had already reduced healthcare associated infections and was taking action to increase NHS transparency, including publishing hospital mortality figures.
Dr Drakeford said he wanted a "culture of conversation" in the health service, "where people feel able to voice concerns about care and know they are being heard".
"The Francis Inquiry, although undertaken in response to failures outside Wales, offers us the opportunity to look at our health service with a critical eye and ensure we are in the best shape to deliver the safe, compassionate care patients deserve," he said.
Welsh Conservative leader Andrew RT Davies described the review as "a step forward in recognising the devastating impact that Labour's record-breaking NHS cuts are having on frontline NHS services".
"This review will give the Welsh government an evidence-based assessment of the needs of the Welsh NHS ahead of the next budget round in which Labour has already pencilled in further cuts to the health budget," he said.
Plaid Cymru AM Jocelyn Davies called for NHS bodies to be strengthened "including appropriate staffing levels, appropriate regulation, ensuring fit and proper people are appointed to senior positions in the NHS, and a cultural shift is crucial too".
Earlier, the Liberal Democrats called for a mechanism to trigger investigations when an NHS body consistently exceeded a specific death rate.
Welsh Lib Dem leader Kirsty Williams also urged ministers to legislate for minimum staffing levels for nurses, set up a free whistle blowing hotline for health service staff and tackle a backlog in the system of clinical coding of patients.
"For the NHS's mortality index to work properly, every patient admitted to a Welsh hospital must be accurately coded with their risk of dying," she said.
"The University Hospital of Wales has admitted a backlog of 40,000 patients still waiting to be coded."
Tina Donnelly, director of the Royal College of Nursing in Wales, said appropriate levels of nursing staff in hospitals were associated with "improved patient outcomes, including mortality and patient satisfaction".
She added: "With the pressures and demands of health care in Wales at an all-time high, we are grateful that the health minister's decision will not only fund approximately 290 new nursing posts but could also contribute to a more stable and healthier NHS workforce which will lead to better standards of care."