Wales workers happiest but paid less and have lower skills, says report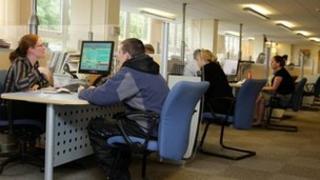 Workers in Wales are paid less than elsewhere in Britain and do lower skilled jobs, a report says.
But they were however the happiest and most committed, according to the study led by Cardiff University.
The report said there was a long way to go before Wales can claim to be the "high quality, high skilled" economy set by politicians as an ambition.
The authors added that improvements to Wales' transport links are essential to attract better quality jobs.
Alan Felstead, the survey's director, told BBC Radio Wales: "We have a happy workforce [in Wales], but on average doing work of a lower quality and poorer paying."
He said the reason for the discrepancy was that workers in Wales are simply happy to have a job.
"They are less optimistic of finding another job which matches what they currently have.
"It's reflected in the state of the labour market in general, [and] the state of the labour market outside what they do is so much poorer that they're very happy with their lot," he told BBC Radio Wales.
Mr Felstead said there were very few "top end jobs" in high paying industries in Wales, but "relatively more low paying, low end jobs and that is reflected in the survey".
That is also reflected in the more committed workforce, he said.
"The message for employers really is that Wales is open for business."
The challenge is for the Welsh government to get better quality and better paying jobs and a way to do that would be to improve transport links, he added.
"Politicians in the Bay [Cardiff] must make a strong case for the strength of the Welsh economy for this infrastructure so we can actually attract better quality jobs, to allow our workers to get those jobs," he added.
"As any job is better than no job it's a delicate trade-off."
At the time of Chancellor George Osborne's spending review announcement in June the CBI in Wales called for more investment in roads, including improvements to the M4 around Newport.