London Olympics composer's Llangollen eisteddfod music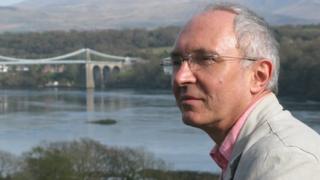 A composer involved in the opening ceremony of the London Olympics has turned his attention to Llangollen International Eisteddfod.
Gareth Glyn, from Anglesey, provided one of the musical arrangements for the extravaganza staged by film maker Danny Boyle in July last year.
Now he is doing the same for the renowned eisteddfod.
His composition will be one of the highlights of the first day of the event on Tuesday.
Mr Glyn provided the arrangement for Elgar's Nimrod, from the Enigma Variations, for the Olympic opening ceremony.
Llangollen will feature his SPM 1 composition, which has been described as "a young person's guide to the orchestra for the 21st Century" by eisteddfod musical director, Eilir Owen Griffiths.
Mr Glyn, 61, who was born in Machynlleth, Powys, and educated in Cardiff and Mold, Flintshire, is no stranger to Llangollen.
"I've only ever been a competitor there before," he said.
"I was there with a choir some years ago. We didn't win but people always say that taking part is what's important and that's really the case at Llangollen."
Pavarotti
He said the idea of his composition was to make the concert venue a spaceship which is powered by the music of the orchestra, while the crew are the children with the conductor as the captain.
"It works very well and has been performed by, among others, the London Symphony Orchestra at the Barbican and I am very pleased to be doing it now at the Royal International Pavilion at Llangollen," Mr Glyn said.
He announced last year he would no longer present BBC Radio Cymru news programme Post Prynhawn after 34 years so he could concentrate on composing music.
The Llangollen eisteddfod attracts competitors from around the world.
It will also host the choir of the world competition which commemorates opera superstar Luciano Pavarotti.
The Italian tenor, who died in 2007, appeared at Llangollen in 1955 as a 19-year-old member of an Italian choir.
He returned in 1995 at the height of his fame to perform a headline concert.
The choir of the world will feature Only Men Aloud as special guests.
Jools Holland's Rhythm and Blues Orchestra will also perform at this year's event, which runs until 14 July.