Swansea police hunt for Carmarthen Road bus stop flasher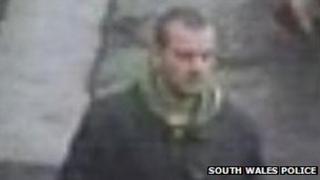 Detectives have released a CCTV image of a man they want to speak to after linking two incidents of indecent exposure at a bus stop in Swansea.
Police said they wanted to find the man responsible before there were "far more serious consequences".
He allegedly exposed himself to a 17-year-old girl and, 18 months ago, a 31-year-old woman at a bus stop on Carmarthen Road near the Gatehouse pub.
It is alleged he committed a lewd act. Police are appealing for witnesses.
Det Sgt David Butt said: "We strongly believe that the same man is responsible for both these incidents. It is possible that he may have initially lived locally, moved away, and has recently returned.
"The bus stop where these offences happened is located on a very busy commuter dual carriageway which travels in and out of the city centre.
"I am appealing to anyone who was a bus passenger or travelling past in a vehicle and saw the incidents or saw this man and can assist with his identity to come forward.
"The behaviour of this man could lead to something which could have far more serious consequences, and we need to locate and arrest him as soon as possible."
Witnesses are asked to call 01792 450618 or Crimestoppers on 0880 555111.