RS Thomas: New biography dispels 'curmudgeon' image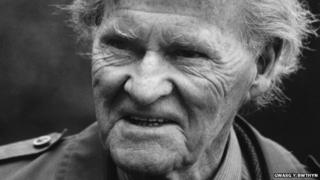 By the time of his death at the age of 87 in September 2000, the renowned poet RS Thomas had garnered a public reputation as an ascetic character and a difficult man to like.
On his passing he was described as a "misanthrope" by one London-based national newspaper.
Not long afterwards the Toxteth-born author Niall Griffiths, citing Thomas's Collected Poems among his favourite books, referred to him as a "grumpy old clergyman… truly, a cantankerous get".
Actor Richard Burton wrote of him: "I'd rather share my journey to the other life with somebody more congenial."
Now, however, a new Welsh language biography is seeking to dispel the "myth" surrounding the 1996 Nobel Literature Prize nominee, whose centenary was celebrated earlier this year.
Cofio RS, Cleniach yn Gymraeg? (Remembering RS, Kinder in Welsh?) is a collection of shared memories of the poet from his friends and neighbours on the Llyn Peninsula in north Wales where he lived for much of his later life.
Published by Caernarfon-based publisher Gwasg y Bwthyn, the book's contributors draw attention to sides of Thomas's character never seen by many in the media who pronounced upon him.
"Kindness, wit and humour were big parts of his personality," wrote Ann Owen Vaughan, originally from Mynytho on the Llyn Peninsula. "He loved joking and teasing people.
"I spent many hours in his company when we went bird watching - he was in his element talking about wildlife and nature and he was very knowledgeable about the subject.
"I'm sure he even chose where he would preach on Sundays depending on where the most interesting birds were."
'Extreme attitude'
Thomas, who was born in Cardiff and learned to speak Welsh as an adult, was widely known for his Welsh nationalistic fervour.
"Much has been said of his extreme attitude when it came to protecting the Welsh language," said Gareth "Neigwl" Williams, Thomas's neighbour for many years in Rhos Neigwl, near Pwllheli, and the book's editor.
"But he knew what it was like to live without Welsh and how much of a loss it would be to let it die out, even more so than those of us who've spoken it all our lives.
"He was an honest and straight-talking man. It takes a very strong and brave person to stand tall and stick to your beliefs like he did."
Mr Williams recalled the hours he spent with the poet.
'Peculiar character'
"For a long time, Friday night wouldn't be the same without a visit from RS," he said.
"He popped in on other nights as well, without any reason, just for a chat. He arrived, without fail, at around nine o'clock and he wouldn't think of leaving before one in the morning."
He added: "Once, I remember reading something that was written about him in an English newspaper.
"The journalist claimed he was a rather peculiar character because he never drank tea, which I found quite odd having poured him gallons of tea over the years.
"That's just one small, trivial example of course, but there's been so much stuff written about him, and most of it by people who knew nothing about him.
"It just goes to show the importance of publishing this book - all the chapters have been written by friends of his, people who knew him well and thought the world of him."