Agricultural workers' pay: Emergency bill passes first hurdle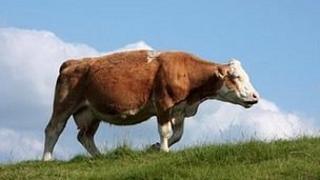 Emergency legislation to protect the wages of Wales' farm workers has passed its first hurdle in the assembly.
Welsh ministers want to retain the functions of the Agriculture Wages Board (AWB), which was abolished by the UK government last month.
UK ministers removed the board, arguing it would enable the industry to adopt more flexible working practices.
On Tuesday AMs backed the general principles of the Bill, which is due to be voted into law next week.
Rural Affairs Minister Alun Davies told AMs the Bill would "seek to ensure there is continued support for the agriculture industry in Wales".
"The purpose of this Bill is to preserve the key features of a statutory regime that is well established and well understood and well known in the agricultural sector," he said.
He said the system rewarded experience and qualifications through six different pay grades and encouraged people to enter the farming industry.
Opposition parties raised serious concerns that the way the Bill was currently drafted would allow ministers to set wage levels directly, rather than through an independent board, a move they warned risked politicising the issue.
Opposing the Bill, Welsh Conservative leader Andrew RT Davies, a farmer himself, said: "We want a modern, diverse agricultural industry for the 21st Century - we don't want legislation (and) regulation fit for the 40s."
Speed
The AWB used to set the wages of more than 13,000 Welsh farm workers.
For 65 years it was a forum for employer and employee representatives in England and Wales to decide on pay and conditions.
The Welsh government opposed its abolition but was told by Whitehall it was not a devolved matter since it dealt primarily with non-devolved employment issues rather than agriculture.
Therefore ministers in Wales asked for an emergency Bill to retain the functions of the AWB.
Opposition AMs have criticised the speed with which the legislation is going through, saying procedure was being abused by ministers.