Carl Mills trial: Father denies starting Cwmbran fire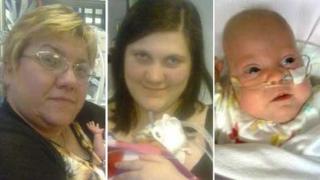 A father accused of murdering three generations of a family, including his girlfriend and disabled baby, by starting a fire at their home said earlier threats he made were "empty".
Carl Mills, 28, told Newport Crown Court he and Kayleigh Buckley, planned a new life together once their six-month-old baby came home from hospital.
He denies killing Kayleigh, 17, her mother Kim Buckley and baby Kimberley at their home in Cwmbran, Torfaen.
He said he was shocked to see the fire.
Patrick Harrington QC, defending, asked him: "Did you have anything to do with the fire?"
"No," Mr Mills replied.
Mr Harrington continued: "Did you threaten to burn down the house?"
He replied: "Yeah, but it was empty threats really."
The jury has previously heard how neighbours living on the estate had tried to save the family from the fire in the early hours of 18 September.
It had been started in the porch of the house and spread to the staircase, trapping them.
The fire had been started just hours after baby Kimberley, whose twin sister Angel had been still born, had been discharged from hospital following her premature birth.
The court was told on Friday afternoon that Mr Mills sent a text to Kayleigh on 28 August 2011, the day before Kimberley was originally due to come home.
He texted that it was "funny" he could not see "her" and said he hoped "she" died.
Under cross-examination, Gregory Bull QC suggested the "she" in the text message was Kimberley but Mr Mills said he could not remember.
Mr Bull said: "That's not just drunkenness, that's just plain evil. "
Mr Mills said: "It's just drink talk."
A few minutes after the first text, the jury was told Mr Mills sent another message which said "your house is going to go up in flames and I will be home when it does".
Mr Mills told the jury sending a text of that nature was "just me".
He then sent another text: "I will murder you lot."
'Barrage of abuse'
The texts continued into the morning of the following day and at 07:17 he texted: "I will kill you" and at 07:19 he wrote: "I will kill your daughter."
Mr Bull told the court Mr Mills sent an "unrelenting barrage of abuse" over a 27-hour period.
In further texts he said he would "petrol bomb" the house.
Earlier, the court was told alcoholic Mr Mills was drinking on wasteland known as "the brick" near the back of the house in Coed Eva at the time of the fire.
Giving evidence, he told the court: "I sat down for a couple of minutes but then I heard screaming getting louder and shouting getting louder."
Mr Harrington asked him if he knew it was his girlfriend's house that was on fire.
Mr Mills replied: "Yeah. I didn't know what was going on."
Mr Harrington asked if he had run towards the fire.
"I kind of jogged a bit. But then stopped - my legs were aching," Mr Mills replied.
He said he saw fire crews outside and told them which rooms the three members of the family were in.
He then went to the back of the house, he told the court.
"(I was) in the back garden to see if I could get in the back door. It was locked," he said.
"I were trying to look for something in the garden to smash it."
He was then taken for questioning by a police officer.
Friend on Facebook
Later, Mr Mills told the court he loved Kayleigh.
The pair had got together when she requested him as a friend on Facebook in August 2010. She was 15 and Mr Mills was 25.
He told the jury he knew her age and they did not start a sexual relationship until she was 16.
The jury has previously heard how Mr Mills had become increasingly resentful of the attention Kayleigh had been giving to their daughter.
Following Mr Mills' evidence to the defence barrister, the prosecution began its cross-examination.
Mr Bull asked him: "Do you regret starting the fire that killed her?"
"I didn't do it," Mr Mills replied.
The jury was also told Mr Mills had a string of previous convictions from the age of 17.
They included criminal damage, threatening behaviour, stealing a car, breaching community rehabilitation orders, and racial abuse.
Up until 4 September, Kayleigh and Mr Mills were sleeping rough, the court heard.
But Mr Bull said: "By the 4th September the penny was beginning to drop in her mind. She was beginning to put the baby first."
The jury was also told that Mr Mills saw the baby only "a couple of times" after her birth but not in the last few months of her life.
The trial continues on Monday.