Fresh bid to reopen Brynamman Lido, Carmarthenshire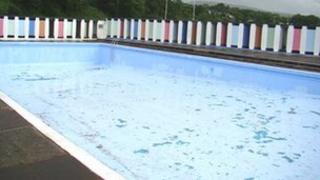 About 50 people attended a public meeting to discuss the future of a village's outdoor swimming pool.
The 80-year-old Brynamman Lido in Carmarthenshire was shut in 2010 after the committee running it received a £20,000 repair bill.
But the committee which kept the lido afloat since 2002 has dissolved because members have "run out of steam".
Now 16 people have put their names forward to be part of the Brynamman Swimming Pool Association.
It is estimated that £200,000 would have to be raised through grants to reopen the pool.
The 30x15m pool, built during the depression of the early 1930s by out-of-work voluntary labour, attracted around 2,000 visits each summer.
More than 100,000 gallons of water were usually siphoned off from the River Amman to fill it and at the end of the holidays it was then drained and mothballed for 10 months of the year.