AMs question Betsi Cadwaladr Health Board chief over failings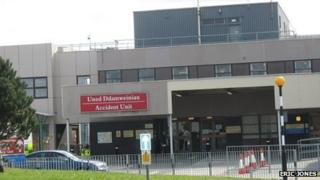 The outgoing chair of Wales' largest NHS organisation is giving evidence to AMs as part of an inquiry into its mismanagement.
Merfyn Jones and chief executive Mary Burrows resigned from Betsi Cadwaladr Health Board (BCUHB), which runs hospitals across six counties.
A damning report found a breakdown in the relationship at the top contributed to "significant management failings".
The public accounts committee is asking Mr Jones about what went wrong.
Ms Burrows is expected to provide written evidence to the AMs.
Other senior NHS managers will help run the health board while the search goes on for a new chair and chief executive.
BCUHB runs general hospitals stretching from Bangor to Wrexham and has a budget of around £1.2bn.
Three weeks ago one of the most critical reports ever produced about a Welsh health organisation identified a catalogue of serious problems in the way the NHS in north Wales had been run.
The investigation by the Wales Audit Office and Health Inspectorate Wales found that the relationship between the two individuals at the top of the health board had deteriorated to such a degree that it compromised the leadership of the whole organisation.
The issues included:
Management failings, which are contributing to significant risks with hospital infections such as c.dificile being under-reported.
Big financial problems with the health board managing to avoid overspending sometimes only by delaying operations and letting waiting lists get longer.
Bosses failing to plan ahead for big changes that are needed to hospital services with no clear plan for which services might be cut or reorganised.
Leadership at the board was "fundamentally compromised" with the relationship between the chairman and chief executive breaking down.
Health Minster Mark Drakeford told AMs on Tuesday that the report made "sobering reading" but meant that Wales' NHS inspection and supervision procedures were able to pick up the problems.
He said an advert for a replacement for Prof Jones has already been placed while another for the vice chairman - Dr Lyndon Miles who also stood down a few days after Prof Jones and Mary Burrows - will be placed "very shortly".
He said the health board had brought in an expert in infection prevention to advise on its procedures on preventing infections, in particular c.dificile, as well as specialist nurse.
Also Public Health Wales was keeping eye on the health board's monthly progress.
Mr Drakeford said he would update AMs on the health board's progress in September.