Betsi Cadwaladr health board chair denies 'personality clash'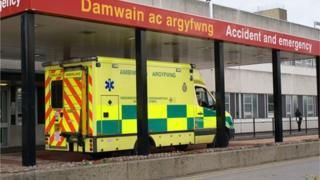 The outgoing chair of Wales' largest NHS body has denied that "a clash of personalities" was at the root of management failings in north Wales.
Prof Merfyn Jones was giving evidence to AMs on how the Betsi Cadwaladr University Health Board (BCUHB) operated.
A critical report has cited a breakdown in relationships as contributing to "significant management failings".
Prof Jones announced he was resigning as the board's chair three weeks ago.
But addressing the Public Accounts Committee, the former board chair said that the joint report by the Wales Audit Office and Health Inspectorate Wales was "extremely serious and sobering" and he insisted lessons would be learnt.
He said that while there had been "difficulties" in recent months in the relationship between himself and chief executive Mary Burrows, there had been "absolutely no personality clash" between any member of the board.
Prof Jones said he accepted that there had been problems with management structures at the board, but argued that was down to the size and geography of the area it covered.
"There has been a problem in creating one organisation out of eight, serving a wide geographic area of about 700,000 individuals with three different hospitals with their own cultures," he said.
"There were systems issues.
"Even though Bangor was the designated HQ there was no central hub where executives could meet - so you had a dispersed executive - and it's not sustainable."
But the former chair rejected the suggestion that the health board was too large to function effectively - though he did suggest it should be renamed as the North Wales University Health Board.
Further failings
The chief executive, Mrs Burrows, is also standing down from her post, but was not presenting evidence in person to the hearing on Thursday.
The investigation into the health board, published in June, highlighted other issues of concern, including:
Management failings, which are contributing to significant risks with hospital infections such as c.dificile being under-reported.
Big financial problems with the health board managing to avoid overspending sometimes only by delaying operations and letting waiting lists get longer.
Bosses failing to plan ahead for big changes that are needed to hospital services with no clear plan for which services might be cut or reorganised.
Later on Thursday, the chief executive of the NHS in Wales defended the Welsh government's response to management failings at the health board.
But giving evidence to the Public Accounts Committee, David Sissling said that lessons would be learnt and events in north Wales did provide "some food for reflection".
Mr Sissling told AMs that the Welsh government had become aware of mounting problems at the health board in the middle of last year - namely an increase in pressures in "unscheduled care" and growing financial problems.
He insisted the Welsh government had acted swiftly to identify take action on the information.
He also told the committee he had demanded that all health boards in Wales report to him by the end of August outlining how they intend to learn from the failings identified in north Wales.
Health Minster Mark Drakeford told AMs on Tuesday that the report made "sobering reading" but meant that Wales' NHS inspection and supervision procedures were able to pick up the problems.
He said an advert for a replacement for Prof Jones has already been placed while another for the vice chairman - Dr Lyndon Miles who also stood down a few days after Prof Jones and Mary Burrows - will be placed "very shortly".
He said the health board had brought in an expert in infection prevention to advise on its procedures on preventing infections, in particular c.dificile, as well as specialist nurse.
Also Public Health Wales was keeping eye on the health board's monthly progress.
Mr Drakeford said he would update AMs on the health board's progress in September.