Farming unions thank Andrew Ward and Gareth Wyn Jones for snow help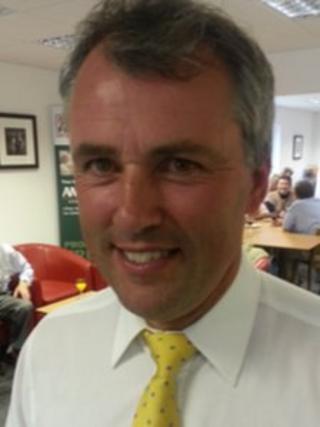 Two farmers who raised awareness of the plight of snow-hit hill farmers have been praised at the Royal Welsh Show.
Lincolnshire farmer Andrew Ward, who founded Fodder Aid, was thanked by the Farmers' Union of Wales for launching a system of emergency hay supplies.
Gareth Wyn Jones, from Conwy, was honoured by the National Farmers' Union for his alerts via social media.
It followed heavy snow in March during the lambing season which killed hundreds of sheep in upland areas.
Mr Jones, Tynllwyfan, Llanfairfechan, appeared regularly on TV news coverage of the crisis which prompted Mr Ward to launch Fodder Aid.
Mr Ward persuaded farming industry suppliers to fund the haulage of hundreds of bales of hay donated by farmers.
He said last year's wet summer had meant there was a shortage of fodder this spring and when the snow fell the grass did not grow, so farmers had to keep their animals inside and feed them there.
His project started in April and is due to end shortly, with one of the last consignments of hay delivered to a farm in Brecon, Powys, on Wednesday.
'Not enough'
Mr Ward was inspired to set up Fodder Aid after seeing the problems facing affected farmers on TV.
Snow drifts of 15ft (4.57m) in north Wales had left hundreds of sheep buried in March and April.
Mr Ward, who has an 1,800-acre arable farm in Leadenham, near Lincoln, started by donating his own hay but soon realised it was not enough.
"I sent 50 of my own bales to a farm in Cumbria and it cost up to £1,500 but I soon realised the extent of the problem and I needed more help," he said.
"Using Twitter - I'm called Wheat Daddy - and the Farmers' Weekly I appealed for help and soon I was receiving messages from farmers around England - Kent, Essex, Devon, Norfolk, Buckinghamshire, Berkshire, Yorkshire - and they all wanted to donate hay.
"My next problem was getting it to the farmers in Wales, the north of England, Shropshire and Scotland so I asked companies supplying the farming sector to fund the haulage and they agreed.
"I was touched by the loss farmers were facing in Wales and we sent about 35 lorry loads of hay to places like Corwen, Abergele and Brecon."
Mr Ward said he had been overwhelmed by the response from the farmers he helped.
'Extremely grateful'
"Some farmers have phoned me in tears saying that I've saved them, their families and business from ruin and their livestock," added Mr Ward.
The Farmers' Union of Wales (FUW) thanked Mr Ward for his help during a reception at the Royal Welsh Show on Wednesday.
Speaking on Thursday, FUW president Emyr Jones said: "Mr Ward was a good Samaritan in a time of need and and we are extremely grateful to him for what he has done.
"His generosity is something that isn't that common these days and it surprised us. Perhaps in the future we can pay him back.
"It just goes to show that the industry will band together when the going gets tough."
Meanwhile Mr Jones was named winner of the National Farmers' Union (NFU)-Principality Welsh rural community champion award for his use of social media during the bad weather.
NFU Cymru said the Conwy farmer was constantly looking at new ways to spread the message about the work of hill farmers using Twitter, TV, radio and a book, launched last year.
The union's deputy president in Wales, Stephen James, added: "This year the award has taken on a whole new dimension with Gareth's use of the social media community to promote his work as a hill farmer as well as his local community."