14th Century scroll spotted on eBay by Powys council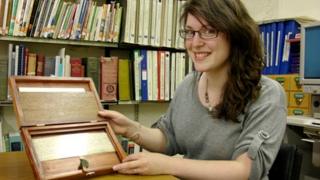 A chance sighting on eBay has led to Powys council acquiring its newest - yet oldest - artefact for its archives.
An archives staff member spotted the 1318 land deed relating to land near the town of Old Radnor on the website.
It was authenticated by Aberystwyth University lecturer Dr Elizabeth New, a specialist in medieval seals.
The seller did not wish to be named but Powys assistant archivist Roz Williamson said: "It's the last thing you'd expect to see on eBay really."
She added: "Who knows what journey it's been on in almost 700 years between when it was issued and when it ended up on the net?
"That's something we're hoping to discover in the months and years to come."
The parchment scroll, bought for £1,350, is written in Latin and details the transfer of land ownership from William, son of David of Bilimor, to Richard, son of Henry Hante, of Berchlynghepe.
Dr New was able to positively identify it by the attached seal, made with beeswax and coloured with verdigris, a green pigment.
She recognised the impression as a stylised lily and confirmed it had belonged to William.
Ms Williamson said that while comparatively little is known about the circumstances of the deed, it could be the key to improving what is known of 14th Century Welsh politics and law.
She said: "We have other 14th Century documents, but at 1318 this becomes the oldest in our collection.
"So hopefully this deed will shed new light on the powerful Powys families of the age and how they did business with one another."
'Temperatures and humidity'
The closest anyone will be able to get to the document is viewing it through a specially designed display case.
"It's in remarkably good condition given its age. There's a tiny hole in the middle, but all the text is still legible and the parchment is strong," she said.
"To help keep it like that we'll be storing it in our sealed strongroom, with carefully controlled temperatures and humidity.
"But for people who want to study the text rather than the parchment, we've produced a digital copy."
The acquisition was made possible by donations from the Victoria & Albert Museum purchase grant fund, the Radnorshire Society, the Powys Family History Society and a private contribution by Mike Cole, in memory of his wife Sadie.