Swansea firm frustrated at system after job advert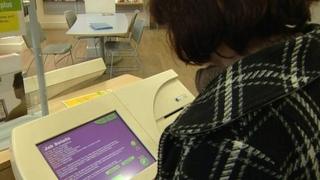 A Swansea businesswoman claims 100 people from as far away as Glasgow applied for two warehouse jobs but were not interested in landing the work.
Jean Rasbridge blames it on job-seekers having to be seen to be applying for work to continue with benefits.
She says none of the shortlisted candidates turned up for interview for one of the £8-an-hour packing jobs.
The Department for Work and Pensions said people will lose benefits if they rejected reasonable offers of work.
But Ms Rasbridge, the managing director of ECigaretteDirect at Crofty Industrial Estate, Penclawdd, said she did not blame job centre staff and had sympathy for the job-seekers themselves.
"It's the system which is making people apply for things they have no interest in just to go on getting the benefits," she told BBC 5 Live.
Ms Rasbridge explained how she advertised the posts after receiving advice from Jobcentre Plus staff and received over 100 applications within a couple of days from people across the UK, including Peterborough and Glasgow.
Jobs 'churn'
"Initially, I was very impressed and I was sorry for people who were so highly qualified with PhDs, college lecturers applying for this sort of job," she said.
"Then we realised they had no intention of coming down to south Wales for an interview and it dawned on us that this was a box-ticking exercise."
The company had previously managed to recruit without using job centres but had exhausted the local pool of available workers.
The Department for Work and Pensions (DWP) said it takes such cases seriously.
"Jobseekers are required to do everything they can to find out if they want to claim jobseekers' allowance," said a spokesperson.
"If people fail to turn up for interviews or refuse a job offer for no good reason they will face losing their benefit. It is because of this we have introduced tough new penalties for those claimants who refuse to play by the rules."
Fran Heathcote, group president of the Public and Commercial Services Union (PCS) which represents job centre staff said: "I've got a lot of sympathy.
"The workers in the job centres aren't at fault. The difficulty is with the system."
The boss of the Employment Related Services Association (ERSA), the trade body for organisations working in employment related services, said the emphasis was being wrongly placed on short term work to get people off benefits.
Chief executive Kirsty McHugh told BBC 5 Live: "We do have a real issue in terms of churn. There are a lot of short term jobs in the system.
"We do need to move to a situation where job centres are incentivised to get people into long term jobs which is better job matching up front and better relationship building with organisations."