Ikea deal 'could create 200 jobs' says Deeside's Westbridge Furniture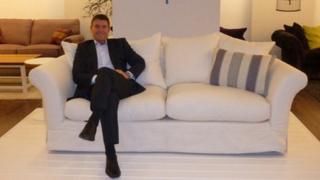 A Flintshire-based sofa firm hopes to create up to 200 jobs after signing a five-year deal with Ikea.
Westbridge Furniture Designs already employs 650 people at two Flintshire sites, making 5,000 pieces of upholstery per week.
It says it has employed 60 extra staff for the Ikea contract, and hopes to increase it to 200 over the next year.
Managing director Paul Islip said the deal was good news for the area. Ikea has been asked to comment.
Mr Islip said the contract is to supply upholstery including sofas, chairs, sofa beds, corner groups and footstools covered in leather and fabric.
He said the company already supplies Marks and Spencer, Next and John Lewis.
The firm has a head office at Greenfield, Holywell and a site on Deeside Industrial Park.
As a result of the Ikea deal, Mr Islip said the company had also commissioned a 140,000 sq ft premises on Deeside Industrial Estate.
He added: "We're absolutely delighted that we have been able to meet the requirements to supply Ikea and look forward to a long a prosperous relationship with them.
"For the area, it means we can create up to 200 new jobs."
Mr Islip said the deal arose after Ikea wanted to switch from upholstery made in Europe, to more UK manufacturing partners.