Warning that dormouse 'could disappear' from Wales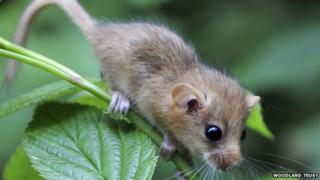 Conservationists have warned that the common dormouse could disappear entirely from Wales as its habitat is lost.
The small rodent is already extinct in numerous parts of England, where it once thrived.
The Woodland Trust says the continuing loss of native ancient woods in Wales could mean the dormouse faces a similar fate in Wales.
The trust says more woodlands must be planted to ensure the animal survives.
"The only way to ensure the survival of this much loved species is to create stronger, more resilient landscapes by planting more native trees and diverse woods, bringing back hedgerows to create wildlife corridors connecting woods in the landscape, and better woodland and hedgerow management," said John Tucker, director of woodland creation at the trust.
He said the added threat of tree disease in woods was placing increasing pressure on the rodents.
That includes the emerging problem of ash dieback, a fungal infection that has now been recorded in several parts of Wales.
Habitat 'halved'
"If the loss of the trees themselves due to disease wasn't devastating enough, it's a very sad fact to know that it is now adding to the pressure dormice face in their search for rich, well managed native woodland," added the trust director.
The trust estimates that there are now about 45,000 dormice spread across the UK.
However, the range of their habitats is thought to have been cut in half in the last 100 years.
It is not only woodland that puts the dormouse under pressure, the loss of hedgerows - with some parts of the UK having lost half of their hedgerows - is also a factor according to the trust.
It means the dormouse - or Muscardinus avellanarius, to give it its full Latin name - is now a rare sighting in several English counties, including Cheshire, Derbyshire, Lincolnshire, Norfolk, Staffordshire and Warwickshire.
In Wales, the Woodland Trust said it was aware of the loss or damage to six ancient woods in the last decade in counties known to have dormouse populations.
It said four woodlands had been lost or damaged in Powys with one currently under threat and one wood in Gwynedd had been lost or damaged.
The trust said it believed a further seven woods are under threat.
It said that it was hoping it could encourage landowners to help protect and encourage the dormouse.
"The Woodland Trust is here to help anybody who would like to help by planting more trees, and for landowners who have dormice in their areas, we can offer extra funding," added Mr Tucker.