Liverpool's Welsh Streets: Compulsory purchase orders plan approved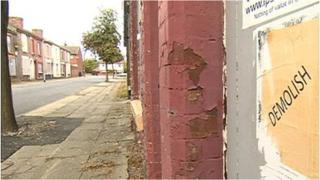 Eight properties in Liverpool's rundown Welsh Streets area are to be bought by the city's council as part of a £15m regeneration plan.
The homes were built for industrial revolution migrants from north Wales.
Most of the area earmarked for demolition has already been cleared, but two houses, three shops and three other plots remain obstacles.
The council has agreed to compulsory purchase orders despite a public inquiry announced by the UK government.
The redevelopment proposals were called in by UK Communities Secretary Eric Pickles last month.
Mr Pickles said his department would review the plans after representations from campaigners opposing demolition.
The council said it was "confident" the inquiry would allow the scheme to go ahead.
The properties are nicknamed the Welsh Streets as they were built by Welsh workers in the late 19th Century and named after Welsh towns, villages and valleys.
The council plan would see 150 new homes built, about 280 homes demolished and 37 properties refurbished.
The regeneration scheme, first proposed in 2003, has divided communities, both in Liverpool and Wales.
The proposals by social housing provider Plus Dane Group would see 150 new homes built, 280 demolished and 37 properties, including Ringo Starr's birthplace, renovated.
Cabinet member for housing, Councillor Ann O'Byrne, said that the streets would not be allowed to stand in the way of the project.
"Our plans were supported by more than 70% of local people following a thorough and detailed consultation, so we are confident that we will get the green light to proceed at the planning inquiry," she said.
"We want to make sure we are in the best possible position to drive forward the regeneration at the conclusion of the inquiry.
"Purchasing the small number of remaining properties will enable us to do that."
While some believe the Welsh Streets should be preserved for their historical significance, the council argues that they are outdated, unpleasant to live in, and an eyesore which is hampering the economic prospects of the neighbourhood.
'Cold conditions'
Ms O'Byrne said: "The residents of the Welsh Streets have waited far too long for regeneration.
"They have shown real determination and fantastic community spirit to fight for a future where boarded-up, derelict properties are replaced by modern, family homes.
"Some are living in damp, cold conditions and it is having a major impact on their health.
"We owe it to them to make sure we deliver this project as quickly as possible, if we get the outcome the local community so desires."
Opponents, including Merseyside Civic Society and Save Britain's Heritage, said the council's stance flies in the face of their own 2005 consultation, which concluded that the Welsh Streets were popular with residents and in better-than-average condition.