Firms gather in Vale of Glamorgan to look at export opportunities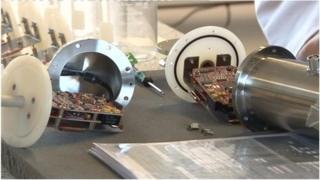 More than 130 companies are gathering in the Vale of Glamorgan to find out what opportunities there are for exporting their products overseas.
As part of International Trade Day Wales, businesses from across the country will have access to advice from experts on overseas markets and global trade.
The Welsh government is sponsoring the event.
The economy minister is also expected to announce new trade missions.
Ministers in Cardiff and London have continually stressed the importance of exporting in developing a lasting economic growth.
The latest official provisional figures show an annual drop in exports from Wales by 6.4% to June 2013 though there was a big rise in overseas sales of goods in the last quarter of that period.
Wales has a successful export market with the European Union and North America but it is facing stiff competition as it tries to make inroads into the vital emerging markets of China, India and Brazil.
Diversity of products
Aber Instruments, based in Aberystwyth, is one of the companies that will be at the event.
This employee-owned business makes a range of products from ones that monitor yeast in the brewing industry to ones that control cell cultures in the biotech industry.
The company says its diversity of products has been one of the reasons that it's successfully weathered the storms since the economic crisis began in 2007 and worsened a year later.
But Aber Instruments director Dr John Carvell says the other reason has been that it trades in markets across the globe from the European Union, to north America and the emerging markets.
That meant that when the recession hit the eurozone, the company's sales were bolstered by its exports to the BRIC countries of Brazil, China and India.
Dr Carvell said: "We have some markets which are up and some which are down.
"We're in two very distinct markets: biotechnology and brewing.
"We're increasingly selling over the to BRIC countries, China and Brazil in particular.
"What we generally find is the markets more or less balance themselves out.
Breaking into those emerging markets- where economic growth is slowing but remains at a high rate compared to the US and Europe- is the holy grail not just for Welsh firms but for businesses across the world.
Dr Carvell has advice for those businesses attending the trade event about how to reach into them.
"We trade primarily through an international distributor chain. We've got something like 25 distributors and over time we have sold to over 60 countries around the world, which is remarkable really," he said.
"I think the secret of our success is getting the right partner in the country, and spending almost a disproportionate amount of time making sure you have the right partner in place.
"The distributor that we originally took in China was a specialist in biotechnology but they've been prepared to invest in the brewing market for us and we're starting to see the rewards for that now."
Trade missions
Wales is less dependent than other parts of the UK on trading with the EU, though it remains a huge export market, particularly countries like Ireland.
This may have helped during the eurozone crisis as that market contracted.
Wales also has a strong trading partnership with the US though the latest provisional figures by HM Revenue & Customs show a drop of 18% in exports between the years ending June 2011-12 and 2012-13.
Overall the figures reveal an annual exporting drop of 6.4%.
The value of exports did bounce upwards in the second quarter of 2013 though.
Economy Minister Edwina Hart said: "We want to build on that by supporting Welsh businesses at all stages of their efforts to increase exports.
"As well as providing advice and support, we have a comprehensive programme of overseas trade missions and exhibitions, where we are promoting Welsh businesses to markets such as Qatar, China, India, Germany, Russia, Brazil and the USA."
The United Arab Emirates is becoming an increasingly important buyer of Welsh products.
Wales is competing globally for sales in China, Brazil and India. At the moment the UK as a whole is seen as being behind in these markets in comparison to Germany and France.
A number of new trade missions are also expected to be announced later when Mrs Hart, visits the event in the Vale.