Technology boost for rural medicine in Wales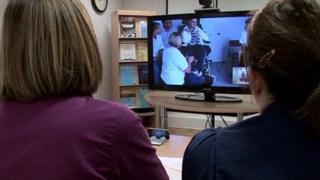 The way new technology is helping deliver better healthcare in rural Wales is the focus of a special event showcasing innovations.
It follows a report out on Monday describing how patients are benefiting from new ways of accessing doctors.
Projects have included speech and language therapy, and heart monitoring of special care babies, using video conference calls.
Health minister Mark Drakeford said it highlighted "exciting" work in the NHS.
"These innovations, projects and new ways of working are an important part of meeting the increasing challenges which face the health service, not just in rural areas but right across Wales in terms of improving access, integration and community cohesion," said Mr Drakeford.
"I expect the work in rural Wales to encourage greater use of technology everywhere."
Another example of technology at work has been the Teleneurology and Dermatology service, covering an area stretching from Swansea to Aberystwyth.
More clinical time
Using telephones and video services, it has cut drastically the time consultants spend on the road travelling between medical centres.
As a result, waiting lists that stood at 24 weeks have now been eradicated as consultants are able to hold more clinics rather than driving between hospitals across mid and west Wales.
Online meeting services and conferencing have also been used to bring experts together in fields such as stroke rehabilitation and mental health, again cutting travel times and freeing up clinic dates.
"These are exciting new models of delivery and I want rural communities to share these possibilities in delivering quality services closer to home," Mr Drakeford added.
As part of the event taking place at the Millennium Stadium in Cardiff on Monday, the scope and funding for further initiatives in telemedicine will be up for discussion.
The minister has already pledged £9.5m in support for a new health technology and telehealth fund which is expected to begin inviting applications for funding later this year.