Rancid fat on beach led to dog's death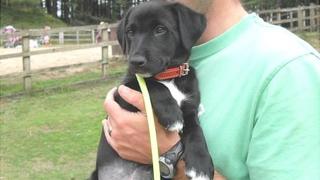 A dog has had to be put to sleep after eating some rancid fat which washed up on a Gower beach.
The death comes after weeks of deposits of the substance being found in beaches all along the south Wales coast.
The dog's owner said his pet, called Maisey, had eaten some of the fat on Llangennith beach on Sunday.
Pet owners have been warned to keep dogs away from the fat, believed to be rotten vegetable oil, although amounts appear to be decreasing.
Daniel Hart, 32, from Gorseinon, told BBC Wales: "I was surfing and Maisey was around the high tide line. I called her to me. She ran half way to me then started being sick."
He took her back to the car where she was sick again, and carried on vomiting while he went to make a phone call.
An hour later, she was still unwell, and was smelling of paraffin.
Mr Hart took her to the emergency vets who gave her antibiotics for pneumonia. "There was blood coming out of her nose," he said.
"I took her home and slept with her on my couch."
But Maisey did not improve. Her breathing had slowed and there was blood "pouring out of her nose".
Vigilant
Mr Hart decided "enough was enough" and took her back to the vet, where she was put to sleep, less than six hours after eating the fat.
"It was horrible taking the decision but I didn't want her to suffer. She had lost the will to live."
Samples of the fat have been reported at Ogmore, Vale of Glamorgan, Southerndown, Newton near Porthcawl in Bridgend county, and Oxwich and Llangennith on Gower.
A Vale of Glamorgan council report said the number of cases of rancid fat seemed to be decreasing.
However environmental health officers warned dog owners that in some areas the substance may still be present.
They have advised that if an unknown substance is spotted, dogs should be put back on leads at once and taken away from the area.
If there are further storms it is quite possible for more of the substance to wash onto beaches and dog walkers should continue to be vigilant.
The white substance was first spotted earlier this month on western Vale beaches, including Ogmore and Southerndown, with several dogs falling ill after eating it.
The substance now seems to be travelling west, with cases reported on 18 November on Llangennith on Gower.
Similar cases were reported on the Cornish coast in late October.