Steep rise in winter deaths in Wales last year, ONS says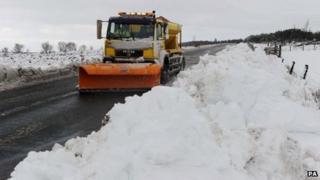 The number of winter deaths in Wales rose sharply last year, official figures show.
There were 1,900 excess deaths in Wales in winter 2012/13 - a 51% rise on the previous year's 1,260, said the Office for National Statistics (ONS).
Charity Age Cymru has called for government action to prevent people dying because of the cold.
The ONS said last year's cold weather and flu levels were thought to be responsible for the rise.
In England and Wales, there were 31,100 excess deaths last winter, a rise of 29% on the year before.
Most of the people who died were over 65.
Claudia Wells, head of mortality analysis at the ONS, said: "If you look at flu last year, the levels of influenza circulating in the population were slightly higher than the year before, but not dramatically higher.
"There was a slightly more prolonged period of flu instance as well that carried on through January and February and the flu was slightly more severe."
She added: "And then you look at the temperature and the thing that you remember about last winter [was] that it was very cold."
Graeme Francis, Age Cymru's head of policy and public affairs, described the figures as "our national shame", adding: "Rising energy prices are likely to mean more people are put in this position again this winter and this, combined with very cold weather, could be very dangerous for many older people."
Although the 51% rise is much higher than the 29% average for England and Wales, the Excess Winter Mortality Index (EWMI) for Wales is lower than the average.
It gives a percentage of how many more people died in a particular winter compared with the normal number of deaths during a non-winter period.
Energy efficient
A Welsh government spokesperson said: "While we are concerned about the rise in excess winter deaths in 2011/12, the numbers fluctuate from year to year and changes should be considered across two to three-year periods. The latest figure is 3% lower than two winters before.
"An additional £150m was provided in the recent budget to help meet unscheduled care and other pressures, and the plans the NHS has put in place means the service is better prepared for this winter.
"Health boards and their local authority partners have been working together closely on this year's plans to improve the integration between health and social care, and to make sure the NHS and its partners are fit for purpose for the approaching winter and the next year.
"This year we are investing at least £36m to make Welsh homes warmer and more energy efficient and have announced an additional capital investment of £70m to tackle fuel poverty over the next two years."