259 HMRC tax jobs under threat at four Welsh offices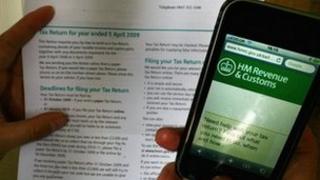 Nearly 260 jobs at four tax offices in Wales could be at risk after staff were offered severance packages.
Her Majesty's Revenue and Customs workers in Carmarthen, Pembroke Dock, Merthyr Tydfil and Colwyn Bay are affected.
HMRC said an increasing number of its customers were choosing to do business online which was reducing the need for labour-intensive roles.
The jobs involved range from tax inspectors to port revenue officers.
The sites in Carmarthen and Merthyr both employ more than 80 staff, with smaller numbers at Pembroke Dock and Colwyn Bay.
HMRC said 259 staff in Wales could apply for "voluntary exit".
There are 86 positions to be cut in Carmarthen, 81 in Colwyn Bay, 84 in Merthyr Tydfil and eight in Pembroke Dock.
A spokesperson said: "An increasing number of customers are choosing to do business with us through our online services, which has reduced our need for physical sites.
"This change has seen the nature of our work shift away from mass-processing work of the past to more specialist, but less labour-intensive, roles required in effective policing of the tax system.
'Disappointed'
"As a result, some areas of our work do not require as many staff, so we are offering targeted voluntary exits to staff in Carmarthen, Merthyr Tydfil, Pembroke and Colwyn Bay."
Steve Donoghue of the Public and Commercial Services union said it feared the move might be a precursor to office closures but until staff knew exactly what the plans were its advice was "not to jump".
He said the four affected offices were not part of the HMRC's medium to long-term strategy and they could close in 2015.
"We are disappointed that people will have to make a decision, which affects their livelihoods, by the end of January when the future of the affected four Welsh offices won't be known until February," he added.