Lottery cash to help Alzheimer's sufferers in north Wales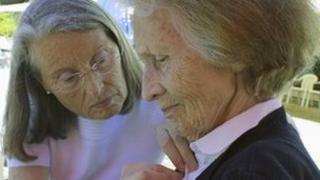 New courses to help people with dementia in north Wales are being launched, thanks to a £720,000 Big Lottery Fund grant.
The Life Not Just a Service scheme will run across the six north Wales counties and will teach subjects ranging from art and drama to quilt making.
Six-week courses will be available to people with Alzheimer's and their carers.
The Alzheimer's Society says it will help sufferers to be "active citizens".
Jacky Baldini, operations manager for the Alzheimer's Society in north Wales, said she hoped the service "will increase public awareness of dementia and give people a better understanding of the condition, reducing the stigma".
She added: "We also hope that the project will create a sense of community spirit where people with dementia can be active citizens."