Blockbuster to close four stores in Wales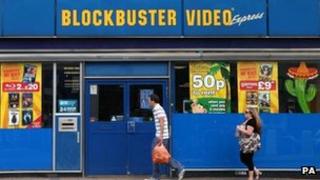 Administrators for the DVD and games rental chain Blockbuster have announced more store closures, including four shops in Wales, after they failed to find a buyer for the business.
Stores in Bangor, Cardiff, Colwyn Bay and Maesteg will shut with the loss of 30 jobs.
The move is part of 30 store closures across the UK, with the loss of 182 jobs.
Blockbuster went into administration for a second time last month.
The chain collapsed for the first time in January, after losing business to online firms streaming films over the internet or offering rentals through the post.
It was sold to Gordon Brothers Europe in March.
Before its troubles began, Blockbuster had 528 stores across the UK.
Joint administrators Simon Thomas and Nick O'Reilly of Moorfields Corporate Recovery LLP said: "Following the marketing process to find a buyer for Blockbuster, no acceptable offers have been received for the business.
"As a result, Moorfields will now seek to oversee an effective phased closure, whilst still exploring any offers for the business as a whole or in part.
"As part of this process, we are today regretfully announcing the closure of a further 30 stores across the United Kingdom and the loss of 182 jobs."
The administrators said earlier this month that 72 out of 264 Blockbuster stores in the UK would shut and 452 jobs would be lost after it went into administration for a second time in October.
Blockbuster is one of several High Street names to have come under pressure in recent times, particularly from online competitors.
Among them are camera chain Jessops, which has gone into administration; music and DVD group HMV, which has closed 66 stores; and electrical chain Comet, which closed its doors for the last time before Christmas last year.