Darren Jarvis jailed for Aberdare double death crash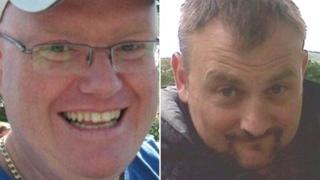 A motorist has been jailed for four years for causing a crash in south Wales in which his best friend died along with the driver of another car.
The judge told Darren Jarvis, 41, from Radyr, Cardiff, he caused "irreparable damage" to the families of both victims in the incident in August year.
The court was told he lost control of his car on Aberdare bypass with friend Lee Williams, 41, of Aberaman, inside.
It crashed into the car of Jacek Stawski, 38, from Penrhiwceiber.
Jarvis was found guilty of two counts of causing death by dangerous driving at Cardiff Crown Court last month.
During sentencing today, Judge Mr Justice Stewart said he had to take into account that Jarvis's actions had left four children fatherless.
However, the High Court Judge also noted Jarvis's genuine remorse for causing the crash.
The court was told he had lost control of his turbo charged Nissan Skyline while driving at 71mph just outside Aberdare.
The 3.8 litre engine vehicle then crashed into a people carrier carrying Mr Stawski and his young son.
'Like a jet'
Both Mr Williams and Mr Stawski died instantly.
Prior to the crash on the 60pmh limit A4059 bypass, Jarvis's driving had been seen by other motorists to be "perfectly normal".
Jarvis was due to drop his friend off at the town's Asda supermarket, when a couple of minutes around the corner his sports car suddenly accelerated.
Other road users described the car as "shooting off like a jet", its wheels spinning wildly like the start of an "American hot rod" race.
Jarvis struggled to control the car as it spun sideways and into the path of Mr Stawski's Citroen Xsara Picasso people carrier.
Witness Paula Evans, who was among the first on the scene, described the aftermath as "horrific".
For causing the deaths of both Mr Williams and Mr Stawski, he was handed a concurrent four-year prison term.
He will also be disqualified from driving for four years and will not be able to hold a driving licence until he has passed an extended driving test.
In a victim impact statement, Mr Williams's widow Sian said her "perfect family life" had been cruelly stolen from her.
"We did everything together. My children idolised their dad," she said in the statement which was read to the court by the prosecution.
"To say that what has happened has turned my life upside down would be an understatement."
Her statement also said that in June this year Mr Williams's 66-year-old father John suffered a fatal heart attack, which she said had been brought on by grief.