New business start-ups in Wales lag behind UK, says ONS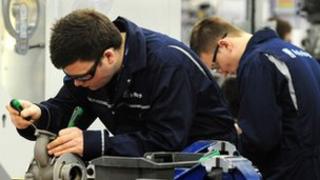 Wales lags behind the UK for business start-ups despite more young people being involved in their own enterprises at an early age, figures suggest.
Business groups said it showed that entrepreneurial spirit is not being converted into new firms.
The rate of new Welsh companies created in 2012 was 9.4% compared with 11.4% for the UK as whole, Office for National Statistics (ONS) figures show.
One entrepreneur blamed a "cultural fear of failure".
The world's largest study of the subject - the most recent Global Entrepreneurship Monitor (GEM) in 2011 - found that 18 to 24-year-olds in Wales were more involved with starting new businesses than their counterparts in the rest of the UK.
'Firing them up'
But more businesses were established per head of the population in the UK than Wales that year, according to ONS figures.
The latest ONS figures for 2012 suggest that trend is continuing with fewer start-ups in Wales than average.
Michael Learmond from the Federation of Small Businesses (FSB) in north Wales said: "There's plenty of support available in schools and colleges and plenty of dedicated tutors.
"It's firing them up with enthusiasm to start their own business but they're sort of just left on their own in the end."
James Taylor set up his own business the same year he graduated from Cardiff University in 2005. He said more young people should be encouraged to go it alone.
His company SuperStars, which began with an initial investment of £1,000, now works with 50,000 children weekly by linking specialists with primary schools teaching drama and sports.
'Get back up'
"I think the problem is a cultural fear of failure," said Mr Taylor.
"In America, if somebody goes and tries to set up a business and it doesn't work first time they're encouraged to get back up and try again.
"Whereas over here if somebody tries something and it fails, you almost have fingers pointing at you saying 'I told you so'."
Last month, the Welsh Assembly's Enterprise and Business Committee said it was encouraged by the Welsh government's commitment to promote entrepreneurship.
But it called on ministers to investigate why there was a disconnect between interest in entrepreneurship and the level of business start-ups.
The Welsh government said supporting business was a "key priority" and that its business start-up programme had helped establish 7,668 new enterprises and create 14,460 jobs between June 2008 and October 2013.
A further 8,140 jobs were set to be created by June 2015, said a spokesman.
"However much of this activity may not be included in today's statistics which only cover businesses registered for VAT/PAYE," the Welsh government added.
Unemployment figures for July to September showed 117,000 people out of work in Wales.