Dwr Cymru water price rises below inflation until 2020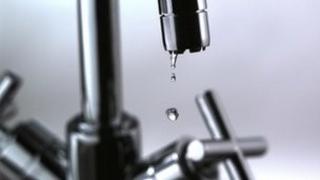 Dwr Cymru Welsh Water has promised below-inflation price increases until 2020 in its five-year plan.
The firm says it will also invest £1.5bn in its water and sewerage services and, as a non-shareholder company, will pass on all gains to customers.
Bill increases will be kept to 1% below inflation every year until 2020.
Severn Trent Water, which serves mid Wales, is investing more than £3.2bn and promising a price freeze in 2015.
Dwr Cymru said the number of problems related to issues like sewer flooding, low water pressure and pollution will fall as a result of improved infrastructure.
Water companies in England and Wales all have to provide detailed plans to the regulator Ofwat every five years.
Ofwat will now decide whether it is satisfied with the balance between investment and prices or whether it wants changes.
Dwr Cymru has been owned and managed by not-for-profit company Glas Cymru since 2001.
It has no shareholders, which means any profits are put back into the business.
Glas Cymru chairman Bob Ayling said: "By 2020 we will have seen 10 consecutive years of keeping our price increases below inflation - reducing our prices by 12.5% in real terms.
"Yet with a £1.5bn investment programme we continue to invest significantly to maintain and improve our services, just as our customers demand."
He said 11,000 customers had responded to the company's consultation and 94% endorsed the plan.
Meanwhile Severn Trent, which serves customers in mid Wales as well as the English Midlands, has also promised a good deal for customers.
Chief executive Tony Wray said: "We have a track record of real price reductions over the last five years and for sharing the benefits of efficiency improvements with customers.
"We plan to maintain this record over the next five years and deliver better value, better services and a healthier environment."
The water industry is facing changes as a bill goes through parliament that will introduce more competition between firms in England and Wales.