Nelson Mandela death: Welsh arts organisations recall his inspiration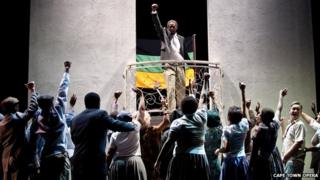 Nelson Mandela's journey from human rights campaigner to prisoner and then president has been a creative spur for arts organisations in Wales, which have been saddened by news of his death at the age of 95.
His life story inspired performances, compositions and cultural ties with the new South Africa.
Last year the Wales Millennium Centre in Cardiff Bay hosted Cape Town Opera for the European premiere of its Mandela Trilogy.
It celebrated the various phases of Mr Mandela's life, with three performers playing him using different styles of music.
Recalling the opening night, WMC managing director Mathew Milsom said: "It was a momentous and a moving occasion for everyone involved in the anti-apartheid movement here in Wales, to come together and celebrate the life of Mandela whose spirit will live on for generations.
"I am proud that we were able to play a small part in bringing his story to life."
Next April, the WMC choir will perform in Cape Town's Artscape Theatre to mark the 20th anniversary of the end of apartheid and the establishment of multi-racial democracy in South Africa.
Among the many performers whose lives were touched by Nelson Mandela was John Wilkins of the Ardwyn Singers.
In the spring of 1998 the Cardiff-based choir was invited to tour South Africa and sing alongside some of their leading counterparts there.
In June that year they had the chance to perform some of the traditional African songs they'd learnt for Mr Mandela himself when he visited Cardiff to receive the freedom of the city.
"Earlier that year I'd been standing in his Robben Island cell, looking at the blanket on the stone floor where he'd slept and the bucket in the corner he had to use as a toilet," said Mr Wilkins.
"Then just a couple of months later I saw the man and was so struck by how happy and at ease he was considering everything he'd been through.
"He was beaming from ear-to-ear, jigging to the music, and came over to shake hands and share a word with everyone in the front row of the choir.
"Sadly I was in the second row, but I got a sense of his sheer joy and force of personality; it was suddenly easy to see how this one man had been able to heal a nation.
"I was also fortunate enough to sing for the Pope's visit in 1982 - John Paul II is the only other man who came close to having the same presence, but even he was eclipsed by Nelson Mandela."
Rhondda-based charity Valleys Kids has enjoyed a ten-year cultural association with South African percussion band Amampondo, who Nelson Mandela once described as his favourite musicians.
It has also organised exchange visits allowing young people from south Wales to visit South Africa.
Valleys Kids development coordinator Denise Lord says that although people involved with the charity had not met Mr Mandela themselves he still had had a profound impact on the lives of children thousands of miles from his homeland.
"We work with children from some pretty disadvantaged backgrounds here in Wales, but when we took fifty of them on an exchange to South Africa everyone was struck A, by how little the people there had, even compared to our kids, but B, how joyful and optimistic everyone is.
"When we asked them the secret, they all told us it was the hope given them by 'Madiba' [Mr Mandela's clan name].
"He would repeatedly use the word 'ubuntu' [humanity] which apparently conveyed the sentiment that we are what we are because of what we 'all' are.
"Mandela himself was already a frail man by the time our links with Amampondo began, but through the legacy he gave them, they in turn have been able to transform the outlook and prospects of children on the other side of the world, here in Wales.
"Perhaps that's the greatest thing I can say about him."