School performance rankings published by Welsh government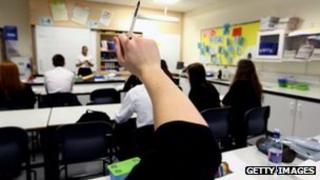 The latest secondary school performance rankings in Wales have been published.
It is the third year of banding where schools are graded on GCSE results, performance in some subjects, attendance and number of pupils from poorer backgrounds.
Teaching unions say the system is too volatile, with schools bouncing up and down the bands from year to year.
BBC Wales understands one school this year has jumped from the lowest band, Band 5, to the top, Band 1.
Since 2011 schools have been placed in a banding group marking the Welsh government's assessment of a school's performance in an academic year.
It was been introduced as a way of identifying where schools are going wrong, and what needs to be done to improve the situation.
The banding works by assessing school performance within four broad categories to produce an overall score:
The percentage of pupils achieving five A* to Cs at GCSE including English or Welsh and mathematics
The best eight GCSEs of pupils
The performance of pupils at GCSE in English or Welsh and mathematics
Attendance
Within each category, a school's score is modified to take into account the percentage of pupils eligible for free school meals. This allows for the challenges of running a school in a deprived area.
Most of the categories also take into account a school's progress over time, to reward schools that are making improvements in performance.
Changes on way
This means that within the four broad categories, schools are scored on 11 separate measures in total.
But there are changes on the way. The current system was always going to be reviewed after three years, and the time is up.
So in the new year, the Welsh government's officials will review how the banding system works.
One area likely to be included in a revised system is poverty. Yes, the number of children receiving free school meals is already taken into account, as is the progress those pupils make during their time in school.
But since Education Minister Huw Lewis recently made a point of saying there needed to be more focus on poverty in education, it is likely there will be more points for schools who do more to improve the lot of the poorest children.
'Cumbersome and volatile'
Unions have never liked the current model. They say it is too cumbersome and volatile.
For example, Ysgol Tryfan in Bangor topped the list of schools in 2011, but fell to Band 4 last year.
This, according to unions, shows the system does not really reflect the actual performance of schools.
The government, though, said that was the whole point - that schools' placing in these bands would fluctuate but that three-quarters of schools stayed in the same band last year.
They also point to the fact that so many schools in Bands 4 and 5 in 2011 managed to climb up the table as evidence the system works.
The emphasis on the number of pupils from a poorer background is also a contentious issue for many schools in more affluent areas. They may well get the best results, have pupils with very high attendance rates and still only be counted an average school because very few pupils get free school meals.
Improve performance
What tends to be lost in the arguing over the principle of banding is that a lot of support is offered to lower performing schools; if placed in Band 5 a school will get £10,000 as a way of boosting its performance.
Many other schools will be given advisors who can tailor their support to whatever is needed to improve performance.
However, the more successful a school becomes, the less support will be offered.
For the first time, I understand a school has jumped from Band 5 to Band 1 this year. That is a remarkable achievement.
But whereas that school would have been given a whole raft of measures to support learners in the past, that will stop now almost immediately.
Officials tell me if such a leap has indeed happened, it would be very difficult for the school to maintain its position.
That is what you call being the victim of your own success.