Rise in alcohol abuse help expected after festivities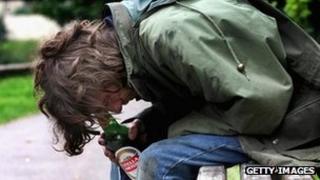 More people are expected to seek help from drug and alcohol charities over the new year.
Three of the biggest services in Wales - Cais in north Wales, Sands Cymru in Swansea and Inroads in Cardiff - say they are preparing for their busiest time of year.
Charity workers said relapses and alcohol were often the biggest issues.
This was because people had been overdoing it over Christmas or were lonely.
"For us, I would say for the last five years we've definitely seen an increase in the number of people coming to us at the start of each year," said Ifor Glyn, chief executive of Sands Cymru.
"As far as the type of people coming in, alcohol and heroin are the main ones we are seeing."
Mr Glyn said people with alcohol problems spanned all ages and social classes from a lecturer to a homeless person.
He added: "People want to party and one of the best ways to change their mood is to take a substance.
"People tend to realise after new year that they've overdone it and they are seeing some of the effects of what they've done.
Drug overdoses
"It's also a time when a lot of people will get depressed and get quite lonely and take drugs to forget about things."
Mr Glyn said the charity tried to promote sensible drinking and raise awareness of underage drinking and drink-driving in a bid to help tackle the problem.
But it also wants more done to prevent avoidable drug overdoses after 37 people died in Swansea in the last two years while a further 25 lives were saved.
An awareness day, which involved sessions for drug users and professionals, was held earlier this month.
Clive Wolfendale, chief executive of Cais, said the charity would mostly see people with alcohol problems turn to them for help in January.
"Individuals who are trying to control their drinking find it very difficult to do it at a time of year when celebrations are around drinking," he said.
"It's difficult to stay apart from the festivities and celebrations that surround Christmas.
"We do get calls. It's a time for reflection. It's like an extreme example of a new year's resolution."
Mr Wolfendale said Cais would be open throughout the festive period for people who needed help.
In Cardiff, Mags Lyons, project manager at Inroads, said alcohol was a year-round problem.
"Alcohol is the front-runner for everything, not just over the festive period," she said. "But we do see more people after new year.
"There's lots of family disruptions and it's a highly emotional time. It's mostly alcohol. People think it's okay to get wasted. But people then start counting the cost."