70 jobs under threat at Prestatyn and Rhyl seaside leisure sites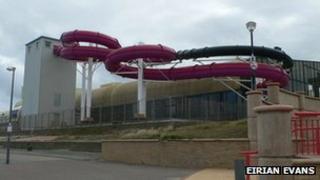 Three leisure sites at seaside resorts in Denbighshire could close with the loss of 70 jobs.
A consultation process has begun with staff at the Sun Centre in Rhyl, the Nova Centre and the North Wales Indoor Bowls Centre, both in Prestatyn.
Clwyd Leisure, a not-for-profit trust, said the decision was due to a funding dispute with Denbighshire Council.
The council said it is "shocked" at the statement and will respond further on Monday.
Clwyd Leisure was set up by the council in 2001 to run tourism and leisure facilities on its behalf.
The trust says that despite a legal obligation the council has continually cut its funding resulting in an impossible position where the centres will have to close.
'Annual funding'
It said that since it began operating the facilities the annual funding had been reduced from £391,000 to £295,000.
Earlier this year the council imposed a reduction of a further £50,000 and propose to make further year-on-year funding reduction of £50,000 annually, the trust said.
It added that unless a way is found to move forward the Sun Centre in Rhyl may not open for business in 2014.
Meanwhile, the Nova Centre and North Wales Indoor Bowls Centre could close on 31 March.
As well as the 70 staff jobs, another 55 seasonal positions are also affected.
The trust board said it had given Denbighshire council "forewarning" about the situation and it "regretted having to take this action but have been left with no alternative options".
"The board of Clwyd Leisure wish to offer sincere apologies to our staff, customers and the communities of Rhyl and Prestatyn for these potential closures," it added.
"This situation is not of Clwyd Leisure making, had Denbighshire County Council listened to our request that the funding be maintained we would not be in this position.
"It is extremely unfortunate that our customers and local communities are now likely to suffer and jobs will be lost due to the action/inaction of the council."
Denbighshire council said: "It's come as quite a shock to see the Clwyd Leisure press release, which was released this afternoon, and we will consider our response in full over the weekend.
"Given what the company has said, we will be responding accurately and fully at a press briefing on Monday morning."