Birds of prey poisoning highlighted by RSPB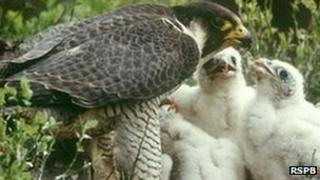 There were 12 reports of poisoning of birds of prey in Wales in 2012, according to figures highlighted by the RSPB.
This accounts for more than one in seven recorded poisonings across the UK, according to the RSPB's Bird Crime 2012 report.
Peregrines in Conwy and red kites in Powys among the victims.
Over the UK as a whole 424 crimes against birds of prey were recorded.
This included 35 across Wales, with 15 in Powys.
Birds of prey have been legally protected in the UK since 1954.
Although poisoning reports had fallen compared to 2011, the RSPB said one "particularly disturbing" case in Wales was the poisoning and attempted poisoning of peregrines in a quarry in Conwy.
Live pigeons were used, tethered to a rock, below an active peregrine nest.
A live pigeon was recovered but it died the next day and its body tested positive for banned substance Carbufuran.
Two dead juvenile peregrines were also found and tested positive for the same poison along with decomposed baited pigeons.
Investigations failed to lead to any significant lines of inquiry, the charity added.
"There are few sights in nature as breathtaking as witnessing a peregrine stooping," said Martin Harper, the RSPB's director of conservation.
"These are sights we should all be able to enjoy when visiting our uplands.
"However, these magnificent birds are being removed from parts of our countryside where they should be flourishing."
The RSPB investigations unit revealed there were 45 bird crime incidents reported across all species in Wales in 2012.
However, the charity believed the numbers are almost certainly higher as many incidents are likely to go unnoticed and unrecorded.
In its report the RSPB also assesses governments' progress on implementing changes to help birds such as the hen harrier and peregrine.
The charity wants tougher legislation so that employers are punished if their staff commit wildlife crimes.
It has already been introduced in Scotland and early signs indicate it may be having some deterrent effect with a reduction in the number of confirmed poisoning incidents, it said.