Council 'shocked and disappointed' at Clwyd Leisure comments on future of leisure sites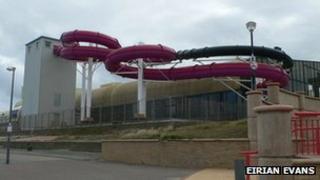 A council says it was "shocked and disappointed" by criticism from a trust which runs Denbighshire leisure sites.
Clwyd Leisure said on Friday that a funding dispute with Denbighshire council could lead to 70 job losses.
It said The Sun Centre in Rhyl, the Nova Centre and the North Wales Indoor Bowls Centre, both in Prestatyn, could close due to council policy.
But the council said the trust knew about upcoming cuts and it criticised the standard of the facilities.
Clwyd Leisure was set up by the council in 2001 to run tourism and leisure facilities on its behalf.
The authority's corporate director for communities, Hywyn Williams, said: "We are clearly sad that Clwyd Leisure Ltd (CLL) has got to this point and if it does go into administration, as it has suggested, we would want the company to deal fairly and effectively with its workforce."
But he said CLL had known about the reduction in funding for at least three years adding it received more direct support than other arms-length organisation to deal with this reduction.
Roof repairs
He added: "It has chosen not to face the reality of the efficiency agenda that is facing all public services at present.
Mr Williams also highlighted that the council did not action the reduction in the first year and instead paid for repairs to the Sun Centre roof.
Jamie Groves, Denbighshire council's head of communication for marketing and leisure, added: "We're clearly not happy with the standards at those facilities.
"Our residents and visitors deserve better and I think in its 11 years of being, the company should have invested more sensibly to improve the offer - we cannot and will not fund such poor standards.
"We are saddened that CLL finds itself in this position but ultimately, the company is accountable for the position it finds itself in and the board should reflect upon how it got to this stage."
And councillor Huw Jones, cabinet member for leisure, said the council would "not continue to fund failure".
On Friday the trust which runs Clwyd Leisure said that despite a legal obligation the council has continually cut its funding resulting in an impossible position where the centres will have to close.
It said that since it began operating the facilities the annual funding had been reduced from £391,000 to £295,000 - a figure the council disputes.
Clwyd Leisure responded to the council's comments by saying it had offered to continue working with the council on the transfer back of the facilities and staff into their control.
Its statement said: "We have been and want to continue working with the authority but our finances will not allow us to work at the authority's pace."