Dog attacks on postal workers in Wales cost £48,025 in three years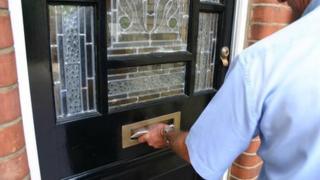 Dog attacks on postal workers in Wales have fallen over the past three years, but staff absences due to injuries have cost £48,025.
In 2010/11 there were 201 attacks, dropping to 143 in 2012/3 with 75 in the first seven months of 2013/14.
Staff have taken 565 days off in that time to recover from injuries including bites and ligament damage, costing Royal Mail £85 per working day lost.
The company said owners needed to do more to control their pets.
The figures were revealed following a Freedom of Information request.
Since April 2011, there have been more than 5,500 attacks on Royal Mail postmen and women across the UK, resulting in the loss of 4,100 working days.
A spokesman for Royal Mail said that while the number of attacks had fallen by 24 per cent across the UK since 2011, it still remained unacceptably high and the firm was committed to driving this down further.
"Unfortunately, animal attacks are a hazard faced by our postmen and women every working day. These attacks cause great distress and in too many cases serious injuries," he said.
"Where attacks do take place suspensions to deliveries may be put in place in the short term in order to ensure the safety of our employees.
"Every dog attack on one of our postmen or women is one dog attack too many."
In July, Royal Mail launched the UK's first Dog Awareness Week to highlight the number of dog attacks on its staff and to urge owners to keep their animals under control.
The firm has issued 90,000 posting pegs to staff to help protect their fingers whilst putting mail through letter boxes.
The company also makes alternative arrangements to deliver mail to any addresses identified as a risk to workers.
Currently, legal protection against attacks by dogs does not extend beyond the garden gate.
Royal Mail says this is a particular problem for its staff, who each visit hundreds of private addresses on their delivery rounds.
The UK government is looking to amend the previous legislation to ensure postmen and women will be protected when they enter private property including a customer's garden.