Prescription drug deaths prompts call for review of free medicine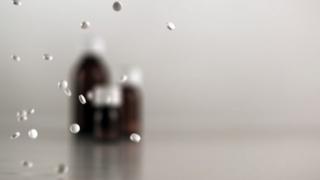 Free prescriptions in Wales should be reviewed due to concerns about the number of deaths involving prescribed drugs, says a leading charity.
MPs want more to be done to stop addicts getting access to the drugs.
Drug and alcohol agency Cais chief executive Clive Wolfendale said free prescriptions were a "real problem".
The BMA called the suggestion "absurd," saying few patients in Wales paid for medicine even before 2007 when free prescriptions for all came in.
Meanwhile ministers said an expert panel would consider the increased deaths related to prescribed drugs.
Mr Wolfendale was speaking to BBC Radio Wales following the release of a report by the Home Affairs Select Committee.
The report highlighted figures released earlier this year by the Office for National Statistics (ONS) indicating the number of deaths involving the opiate tramadol had risen to 175 in 2012 in England and Wales, more than double the number in 2008 (83 deaths).
Tramadol is frequently used to relieve pain from cancer and musculoskeletal problems, but deaths are generally associated with drug misuse.
The MPs called for GP surgeries to start collecting anonymous data and for more to be done to prevent patients visiting several doctors to feed their addiction.
But Mr Wolfendale, a former acting north Wales chief constable, said the problem of addiction was worse in Wales.
He said: "About four million prescriptions granted across Wales last year, population three million.
"As the report points out the death rate is increasing among this (prescription drugs) category and in Wales it is twice the UK average - very worrying.
"We are talking here about anti-depressants and pain killers that are being misused for purposes other than medicinal.
"And they're freely available and in Wales they're free and that's a real problem."
'Awash'
Mr Wolfendale added: "If there is an expectation that these (drugs) can be obtained through the health services and secondly in Wales that they are free, then to a large extent GPs' hands are tied, they are simply responding to a situation that has been created."
He said: "The figures in Wales are significantly worse than the rest of the UK.
"There are complex reasons for that but I think significantly I think if these drugs are free there is more of a tendency to obtain them than even if there is a modest charge.
"I'm not suggesting for a minute that all prescription drugs should be charged for in Wales...if older people need antibiotics and so on that's fine.
"The country's awash with anti-depressants and I think we really need to look at how that's being administered in Wales."
But Dr David Bailey, co chair of the British Medical Association's (BMA) GP committee for Wales dismissed Mr Wolfendale's allegation that free prescriptions were contributing to the problems.
He said: "Old people, people with chronic diseases, and people with low incomes have always had free prescriptions and they still do in England.
"In fact, only about 15% of people in Wales used to pay for prescriptions and they were all generally people who were in work who were on at least average incomes.
"So I think that suggestion is absurd, frankly.
"The reason for free prescriptions is to make sure that people with chronic illnesses can get their often multiple drugs they need to look after themselves."
Strong defence
A Welsh government spokesperson said its Substance Misuse Delivery Plan set out the actions it was taking in relation to prescribed drugs.
Minsters released a statement that added: "In response to prescription drugs, we are developing an e-learning package for pharmacy staff to help them identify and offer brief interventions to those misusing prescription only and over the counter medicines.
"We have asked our Advisory Panel on Substance Misuse to review the Welsh government policy response to the increase in the number of drug related deaths relating to tramadol and other prescription only medicines."
Prescription charges were phased out in Wales and have been free for everyone, regardless of age or income, since 2007.
Welsh ministers continue to strongly defend the policy, despite increasing pressure on the public finances.