Biting by pet cat Taffy 'saved me from fire'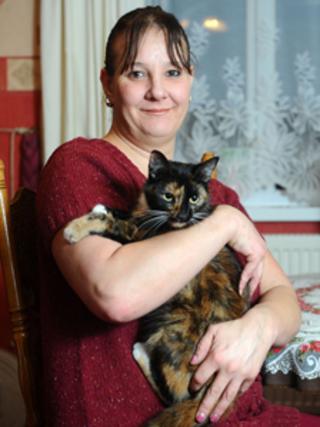 A woman rescued from a fire at her home says she owes her life to her pet cat.
Tracie Horgan-Hodgkiss, 39, was woken in the early hours by two-year-old tortoiseshell Taffy biting her hand.
She found the bedroom of her home in Brackla, Bridgend, was filling with thick black smoke and dialled 999.
Ms Horgan-Hodgkiss said: "I thought the smoke alarm was my alarm clock and ignored it. Taffy carried on biting my hand until I woke up - I don't think I'd be here now but for her."
She was taken to hospital suffering from smoke inhalation and firefighters say she owes her life to her pet.
Roger Mangan, watch manager at Bridgend fire station, said: "Tracie was very lucky - we got there just at the right time."
A 39-year-old man has been arrested on suspicion of arson.