Cardiff shopping sales creating 'frenzy' says centre boss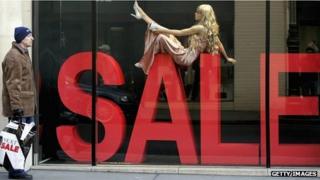 A "shopping frenzy" has been boosting retail sales in the Welsh capital since Christmas due to sales, say managers.
Over one million people visited Cardiff's St David's shopping centre in the last week while Swansea's Quadrant centre saw a 4% rise in December.
Traders in mid Wales are also reporting sales up on previous years prompting shop owners in Ceredigion to report "guarded confidence" in the year ahead.
In Wrexham, about 1,000 shoppers queued outside one store for the sales.
It comes despite analysts Experian saying "footfall" - people visiting the High Streets - was down in the week leading up to Christmas and over New Year in the UK, in part due to the increasing popularity of online shopping.
Steven Madeley, director for Cardiff's St David's shopping centre, said: "Since Boxing Day we've seen a real shopping frenzy with shoppers keen to make the most of the sales.
"In this last week, we have welcomed over one million shoppers which has resulted in over £1m being spent in the centre each day.
"We're expecting this high-level of footfall and sales to remain until early next week as retailers continue to reduce prices and clear excess stock."
Graham Morgan, a director for the two chambers of commerce for south and mid Wales, said market towns such as Welshpool and others along the M4 corridor in south Wales had enjoyed a good Christmas.
He said feedback from retailers "indicate a strong period with figures up on previous years".
Business confidence
Mr Morgan said it was also notable that there appeared to have been more office parties in the run up to Christmas, boosting pub and restaurant trade.
He suggested this reinforced the view that business confidence was growing among employers and staff because such celebratory events had seen a decline since 2009.
Mr Morgan added that the latest survey of chamber of commerce members in October showed their business confidence - looking to the quarter to January 2014 - was at its highest in the last four years, a trend he was hopeful would continue.
Business has also been brisk at Swansea's Quadrant Centre where the number of shoppers rose by 4% in December compared with the previous year.
Nearly 30,000 passed through the doors on Boxing Day, increasing over the following two days to 44,000 on Friday and almost 50,000 on Saturday.
Centre deputy manager Lindy Emms said: "It has been a successful season with our stores recruiting over 150 temporary staff to help them cope with demand.
"We're very hopeful that an improving economy will see many of those kept on."
Aberystwyth Chamber of Commerce chairman Chris Mackenzie-Grieve was more cautious, saying traders had a "guarded confidence" in the year ahead because it was still early into the recovery of the UK economy.
Regarding Christmas trade, he said: "Most people I speak to think it has been okay with no doom and gloom around."
Eagles Meadow shopping centre in Wrexham saw a queue of 1,000 people outside retailer Next waiting for its sales to start one morning over Christmas.
"It's been phenomenal to be perfectly honest," said centre manager Kevin Critchley.
Eagles Meadow Mococo jewellery shop manager Suzanne Bartley said: "We've had a fantastic Christmas - our sales are up 106% on last year."