Drinks industry influence 'just wrong,' says Prof Jonathan Shepherd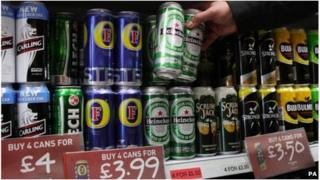 A surgeon who pioneered research linking street violence and cheap drink says the influence the alcohol industry has on UK ministers is "just wrong".
Prof Jonathan Shepherd, of Cardiff University, said the industry lobbying changed the government's mind on plans for an alcohol minimum unit price.
He said: "I don't think that it's the right way to proceed."
Public Health Minister Jane Ellison said ministers had "far more" meetings with public health experts.
Prof Shepherd, research director at Cardiff University's Violence Research Group, is among a number of senior clinicians who have signed an open letter accusing the UK government of cosying up to the alcohol industry.
He says the UK government has gone back on a commitment by Prime Minister David Cameron to introduce a minimum 40p price on a unit of alcohol.
The clinicians spoke out after an investigation by the British Medical Journal claimed very few of the 130 meetings between the drinks industry and the Department of Health were publicly documented.
Prof Shepherd told BBC Radio Wales: "There's really incontrovertible evidence here of a huge and unbalanced influence of the industry and that changed the government's mind away from a very sensible policy on all sorts of levels with regards to crime reduction and better health.
"The huge industry and access when it comes to health policy in this area is just wrong."
But Ms Ellison said the decision not to go ahead with the unit pricing policy was based on a wider view of its possible effects on "responsible drinkers" and drinks industry employment.
She said: "The vast majority of people enjoy a drink without abusing it.
"It's not been dismissed as a policy, it's just something we're not proceeding with at the moment."
Prof Shepherd pioneered the sharing of information and joint action by police, councils and emergency departments to try to curb violence linked to alcohol-related admissions to Cardiff's University Hospital of Wales.
Scotland has set a 50p unit price but the law will not be implemented until legal proceedings, brought by the Scottish Whisky Association, are complete.