Ceredigion council leader disappointed over flood cash help request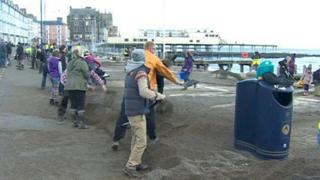 The leader of Ceredigion Council said she is disappointed with the Welsh Secretary's comments that Wales is unlikely to receive extra money to deal with flood repairs.
Ellen ap Gwynn said Aberystwyth could be threatened again by floods with big high tides due in February.
David Jones said the Welsh and UK governments already had schemes to help councils with floods.
About 200 people volunteered to help clean up Aberystwyth front on Saturday.
As well as students, one man had travelled from Gloucestershire to help clear shingle from the walkway armed with buckets and shovels.
Mr Jones said the Treasury was unlikely to release extra money and he doubted EU funds would be available.
Ellen ap Gwynn told BBC Radio Wales his comments were "disappointing", adding: "He doesn't seem to have taken on the seriousness of this storm and the effect it has had all the way round the Welsh coast."
She said it was up to the UK Government to seek more money for flood defence work from the EU for the British Isles.
"There is the cost of the recovery which is the period we are in now but there is also the cost of the initial repair because we are promised high tides again at the beginning of February and March which could affect the buildings along the prom and along the rest of the coast if we don't put some immediate work in hand," she said.
Worst hit
"I think we have got to look much further ahead and design new flood defences where they seem to be wanting or damaged to such an extent that they are no longer really useful."
Damage stretched across the country from Deganwy in Conwy county to the Gower but it was Ceredigion - particularly Aberystwyth seafront - that was worst hit.
Surveyors are still estimating the cost of repairing damage to the Ceredigion coast.
The UK government is providing emergency financial assistance for English councils under the Bellwin scheme, which aims to help councils forced to spend more than 0.2% of their budget on exceptional costs.
Speaking on the BBC's Sunday Politics Wales programme, Mr Jones said that it was up to the devolved administration to take action in Wales.
Last week Natural Resources Minister Alun Davies said emergency funding was available but there would not be any "blank cheques" available for the rebuilding of Aberystwyth's storm-damaged seafront.