Volunteer plan to avoid closure of Tregaron library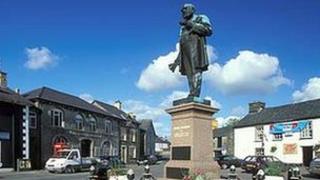 A library threatened with closure could be thrown a lifeline by Ceredigion council following a public meeting.
The council's cabinet has decided to close Tregaron library as part of its aim to save £9.6m in the next financial year.
It plans to replace the six-day-a-week service with a mobile library at the town three days a week.
But a plan is now being considered to keep the library open with the help of volunteers.
The existing librarian would travel to Tregaron three days a week rather than the mobile library being used.
The council's cabinet decided to close libraries at Tregaron and New Quay and provide a mobile library van service in the two towns on 7 January.
These cuts, along with reducing the number of the county's mobile libraries from five to four and axing two jobs, will save the local authority £146,000 next year.
More than 100 people who attended a public meeting in Tregaron on Monday were told the town's librarian would be moved to work in Aberystwyth when the library closes.
But Tregaron county councillor Catherine Hughes said: "The meeting decided to ask council officers to consider the option of the librarian travelling to Tregaron three times a week instead of using a large mobile van.
"We believe this would not only keep the library open but be cheaper than using a large mobile library travelling to and from Tregaron three times a week.
"We also suggested that volunteers could man the library for the rest of the week.
Volunteer service
"This idea is now open for discussion and council officers will get back to us with a response on the possibility of keeping the library open.
"The town's library is not only about books. The use of computers at the library is also very important in this rural area because the facility is based at the local high school.
"The school has a broadband facility which isn't available to many homes in the area."
New Quay library is also threatened with closure.
The town's county councillor, Gill Hopley, said that a volunteer service was also being considered by locals to run the library rather than have the service provided by a large mobile library.
"We will discuss options and costings with county council officers at the next town council meeting at the end of January," she said.
Ceredigion council has been asked to comment.