Seaweed research to help fight drug resistant diseases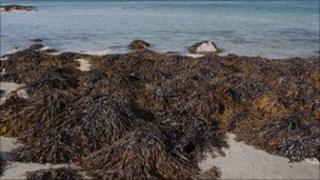 Seaweed could be used in a new generation of drugs which fight off diseases and infections such as MRSA that are resistant to antibiotics.
Researchers have found alginates - components in the seaweed - can combat multi-drug resistant infections.
Alginates such as laverbread have been used as gelling agents in food and the healthcare industry for many years.
But they have not yet been used to fight infectious diseases and will be studied in a £5.4m research programme.
Scientists from Cardiff and Swansea universities are among a network of researchers involved in the four-year project which is being funded mainly by AlgiPharma AS, a Norwegian biopharmaceutical company.
The company has received grant funding from various sources including the European Union, the Norwegian Research Council and the Cystic Fibrosis Foundation of the US.
The project's leader, Professor David Thomas from Cardiff University's school of dentistry, said the research was particularly exciting.
"It is proving we are able to derive material from the natural world with powerful abilities to modify bacterial behaviour and also to alter the structure of mucus in collections of bacteria and in sputum from patients with lung disease," he said.
"These properties are being applied to the development of alternative treatment approaches for challenging and hard-to-treat diseases.
"Now, more than ever in an ageing population, we must look for new ways of managing disease where conventional approaches are proving increasingly inadequate."
Using the information about how the alginate works, scientists have also developed a new inhalation therapy that is being tested on cystic fibrosis patients with the aim of improving their breathing.
If proved successful it could also be used in other more common respiratory diseases such as Chronic Obstructive Pulmonary Disease which is reported to affect over one million people in the UK.
The studies are also paving the way towards improved treatment of chronic non-healing skin wounds and fighting organisms that cause more benign conditions such as gum disease.