Four in 10 rapes in Wales are against children, says report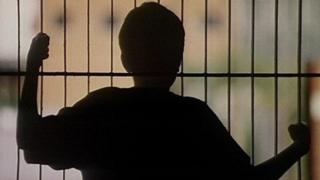 Children are the victims of more than four in 10 rapes reported in Wales annually, new figures show.
In every year since 2009, at least 42% of rapes recorded by police in Wales were against those aged 16 or under.
That is higher than the average of nearly 40% across Wales and England combined, according to figures from Her Majesty's Inspectorate of Constabulary (HMIC).
Children's charity NSPCC described the number of young victims as "appalling".
The total number of all reported rapes in Wales was at a five-year high, up from 699 in 2009 to 937 in the year up to March last year. Of those, 398 (42%) were against children.
During that time the proportion of child victims has remained between 42% and 45%.
The NSPCC said the increase could be partially down to young people having more confidence in the way allegations would be handled - and were reassured they would be fully investigated.
But David Tucker, the charity's head of policy, said the number of children coming forward was still likely to be the tip of the iceberg, with research suggesting 34% of victims do not tell anyone about it.
He said steps had been taken to make it easier for young witnesses to give evidence against sex offenders but improvements needed to continue.
"Children deserve justice when they take the courageous step to report these crimes," he said.
"So all allegations must be fully investigated and victims given support throughout the judicial process and beyond," he said.
In the 12 months to March 2013, according to the HMIC report, the North Wales Police area had the second highest proportion of rapes involving child victims across England and Wales.
Victim support
The force also recorded the third highest proportion of adult rapes.
Detection rates for child rape during the same period put Gwent seventh best in England and Wales out of 43, followed by South Wales at 17th, North Wales (21st), and Dyfed-Powys (32nd).
Adult rape detection for the year up to March 2013 by South Wales Police was the third best in England and Wales. Dyfed-Powys was 12th, Gwent was 15th and North Wales was 17th.
Liane James, Assistant Chief Constable for South Wales Police, put the increase down to more confidence in police investigations and the support victims get.
"We have been working very hard to encourage victims of rape to come forward and to make reporting this type of crime as straightforward as possible," she said.
"We know reporting these crimes can be difficult, but I would urge anyone who has been a victim of any sexual offence to report it to us, you will be supported."
Dyfed-Powys Police and Crime Commissioner Christopher Salmon said it was important that "such scrutiny is applied to data related to rape".
"In Dyfed-Powys I'm eager that we have a true picture of crime and that it's not hidden so I encourage victims to report rapes," he said.
"Actions can then be taken by agencies including the police to help them and to bring the perpetrators to justice."