The Sun newspaper prints school clarification in Welsh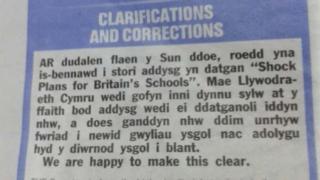 It is not every day that you see the Welsh language in The Sun.
But Britain's biggest selling tabloid has issued a clarification in Welsh over a story claiming UK government ministers could extend school to 45 hours a week for 45 weeks a year.
But that would only apply to England, as education in Wales, Scotland and Northern Ireland is devolved.
The government in Cardiff Bay asked The Sun to make that clear, and the paper obliged with its translated "eglurhad".
In its "Corrections and Clarifications" column, The Sun explained: "Ar dudalen flaen y Sun ddoe, roedd yna is-bennawd i stori addysg yn datgan 'Shock plans for Britain's schools'.
"Mae Llywodraeth Cymru wedi gofyn inni dynnu sylw at y ffaith bod addysg wedi ei ddatganoli iddyn nhw, a does ganddyn nhw ddim unrhyw fwriad i newid gwyliau ysgol nac adolygu hyd y iwrnod ysgol i blant."
It added - in English: "We are happy to make this clear".
In translation, this reads: "On yesterday's Sun front page, there was a sub-heading to an education story which said: 'Shock plans for Britain's schools'.
'Iechyd da!'
"The Welsh government has asked us to draw attention to the fact that education has been devolved to them and they have no intention of changing school holidays or review the length of the school day for children."
The Sun's unusual excursion into Welsh was picked up by Roy Greenslade, media writer for The Guardian, who signed off with his own Welsh contribution, "Iechyd da!"
The cross-border goodwill continued, with the Welsh government tweeting its own thanks in response in both Welsh and English .
However, not all was sweetness and light, with some less than impressed with The Sun's efforts. One tweeter, @WebOnTheWebb, wrote: "Dear Welsh government. The Sun is taking the mickey. Don't say thank you to them".